T

oday I'm inviting you to join me for a cup of coffee. Let's just sit and chat while I share with you the story behind my table setting. It is in celebration of the

leaves

bursting out on the trees!! They have just started to open up. We have had so much rain in our little corner of the world, that if we get a few days of sun, everything is going to POP!!
The inspiration for this table came from my little green

leaf

plates. I generally use them in the fall. I'm not sure why, but I haven't thought of them as "springy," until now. The green color of the plates is almost the same as in the tablecloth. I picked up this tablecloth for $3 at Marden's on one of my trips to Maine. It is double the size you see. I have folded it in half for my smaller table today.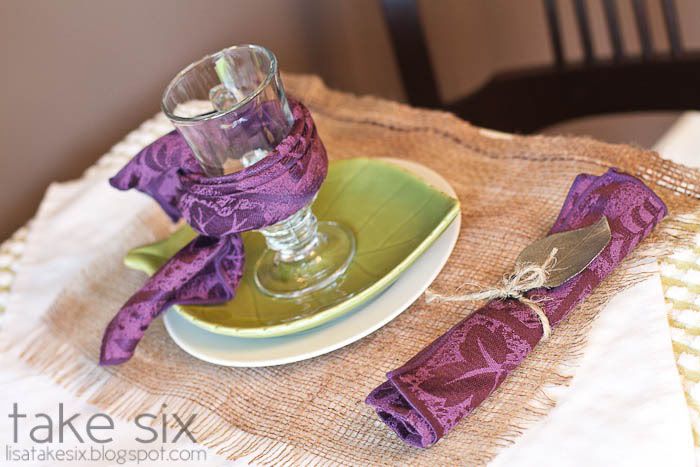 The burlap place mats continue the theme. Protective burlap wraps are taken off trees and shrubs in spring time, and new life bursts forth.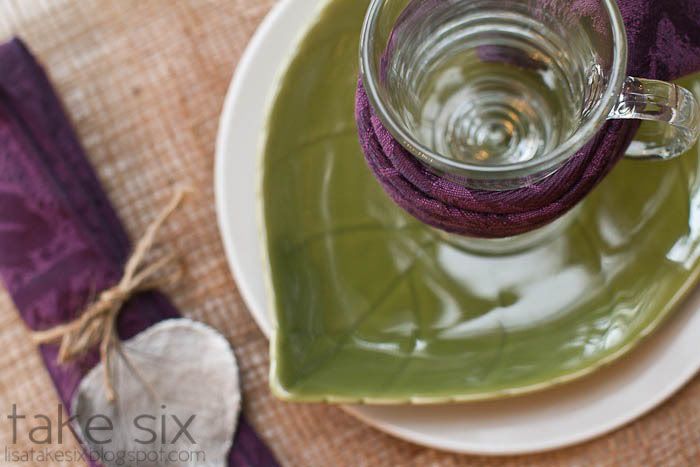 I have used hemp cord to tie on
pewter

leaves
as napkin rings. They are really Christmas tree decorations. I bought several different ones in December. I knew I wouldn't use them as tree ornaments. I felt sure they would be a part of my fall decor...

The purple napkins have

leaves

on them. They match my fall table cloth...

Do you see a pattern developing here?? *wink*

Flexibility is the name of the game in decorating.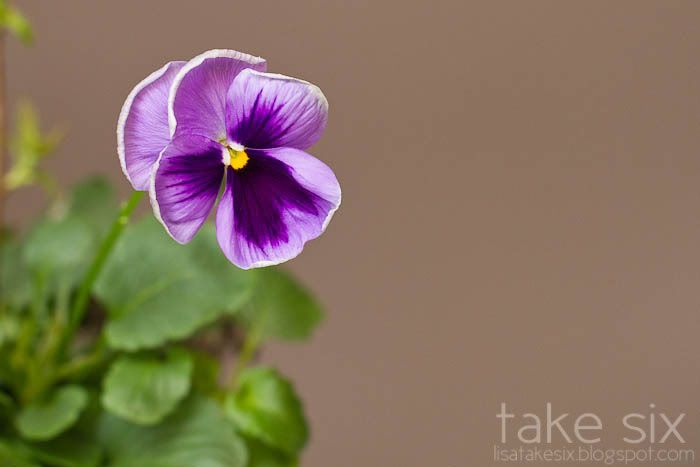 Purple looks so nice with green. I immediately thought of my pansies that I had purchased the week before. Pansies are one of my favorite flowers. I had them sitting on the counter in the kitchen. I know I will soon have to give them up, and let them enjoy their new home in my deck pots for the summer. But I'm keeping them inside with me for just awhile longer.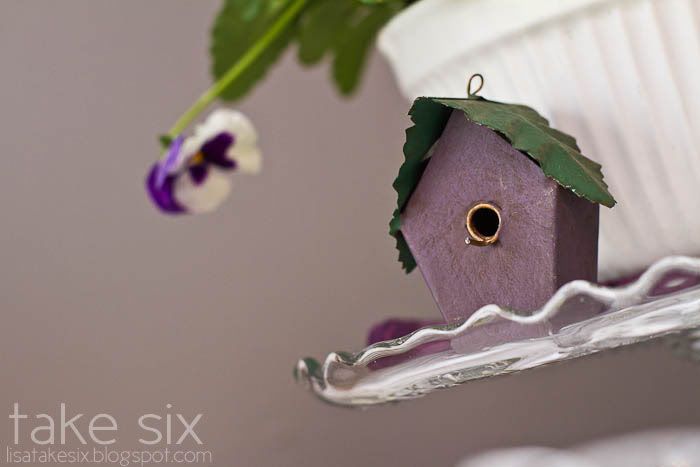 Several years ago I picked up two of these little birdhouses in purple, and three yellow ones. They were on a clearance shelf in a little gift shop.
See the tiny little bird nest snuggled in amongst the pansy plants. My son climbed a tree to get this nest for me.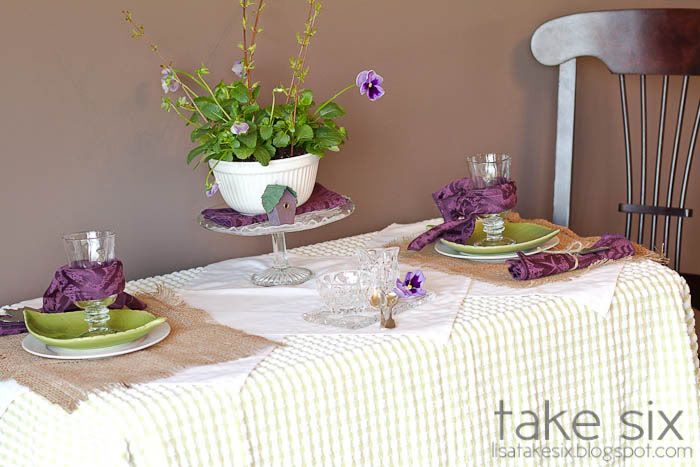 I snipped a few branches from one of my trees and stuck them in among the pansy plants. You can tell that the

leaves

are just starting to open.
This little table sits in the corner of our dining room. I generally use it as a dessert table. Beautiful mahogany wood sits hidden under my table cloth today. It belonged to a former employer of my father. This gentleman had taken it all apart to refinish it and never got around to completing it. He lost interest, and my father rescued the table from upstairs in a warehouse and refinished it. With love, he gave it to my husband and I as a dining room table when we built our 2nd home.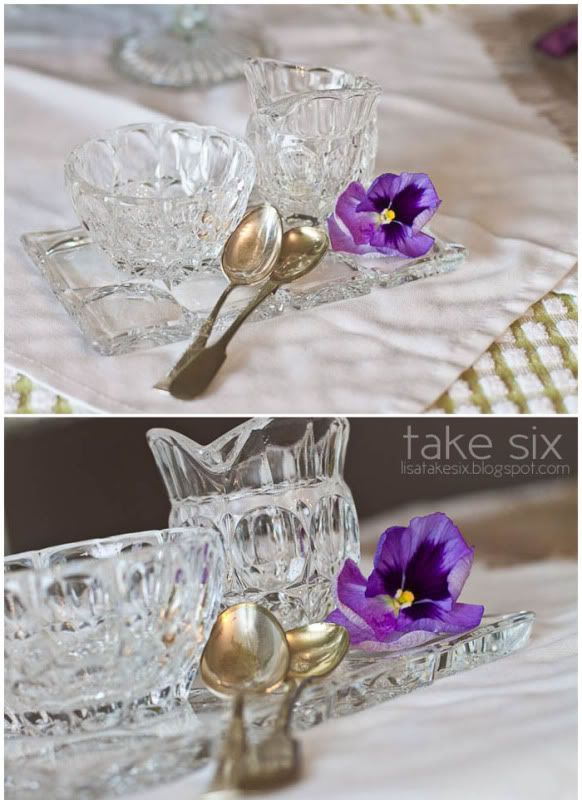 This little cream and sugar on the matching plate is another precious gift from my dad.

The silver spoons are two of a mish mash collection. I love silver cutlery, and keep a collection of odd spoons in a cream pitcher beside my coffee maker on the kitchen counter. Here are a few more. I love how they are all different.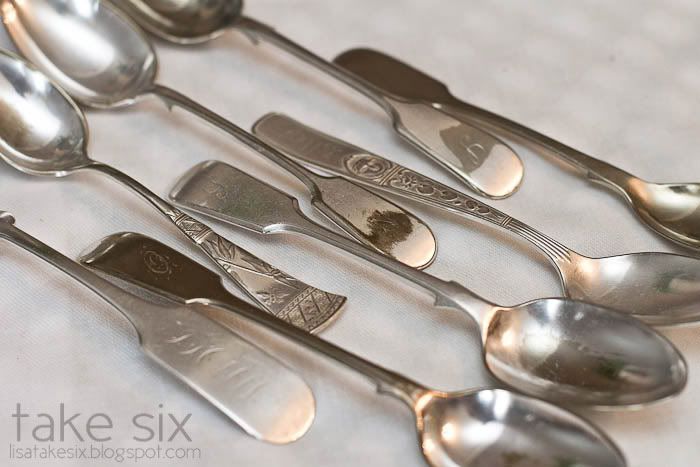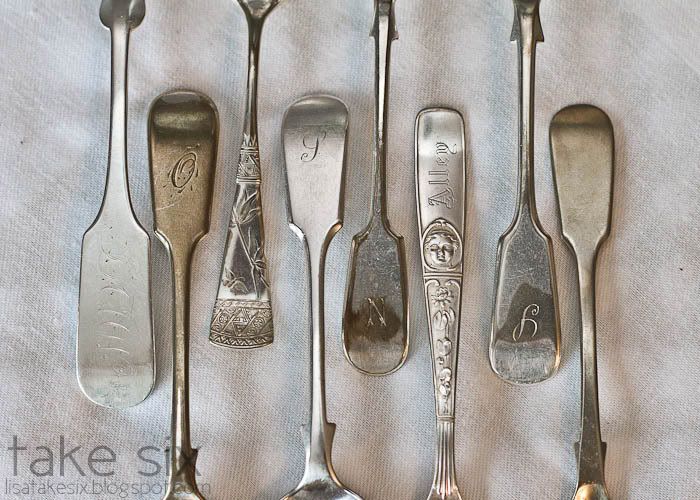 Thank you so much for visiting with me today. I have truly enjoyed our time together. I would like to

leave

you with this thought.



Please don't leave all your "special dishes" packed away in boxes, and china cabinets. Bring them out, dust them off, and use them. No one is more special than your family, and the loved one that you associate with that special item, will seem closer when you are using it!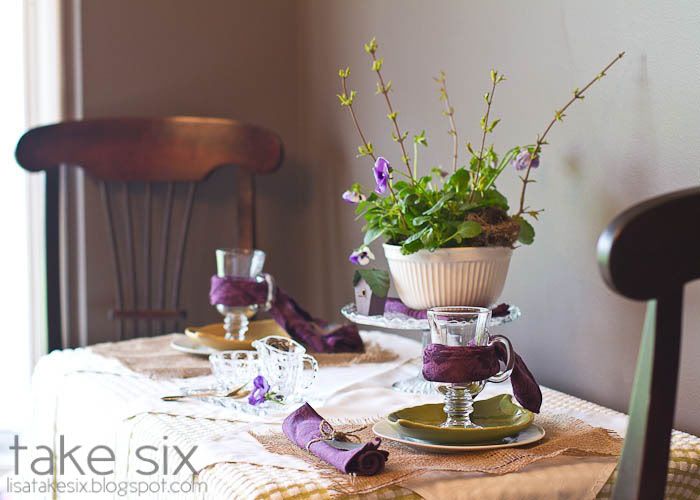 All photos taken by Nicole at
Nicole Payzant Photography
I will be joining the following blog parties this week.
Tablescape Thursday
at "Between Naps on the Porch"
Show and Tell Fridays
at "My Romantic Home"
Feathered Nest Friday
at "French Country Cottage"
Home Sweet Home Friday
at "The Charm of Home"
Inspiration Friday
at "At The Picket Fence"