Welcome to my dining room. It is all prepped for our Mother's Day dinner. We celebrate Mother's Day with my mother. She will have dinner with her three children and their families. I much prefer this to battling crowds and long wait times at restaurants, and everyone is always willing to please on Mother's Day!!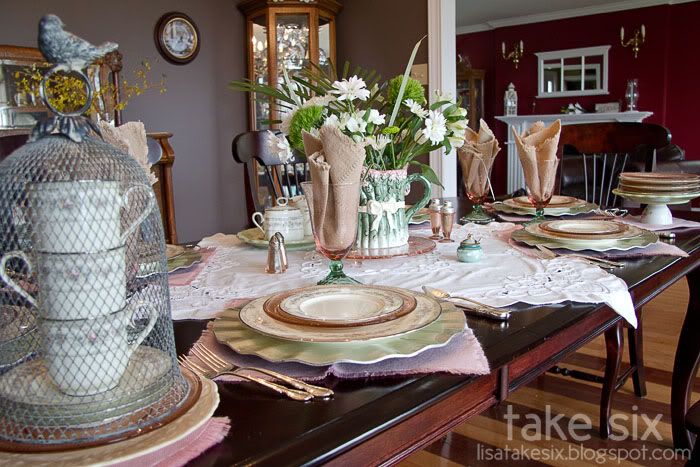 As I began to contemplate my table for Mother's Day, I knew I wanted to use my china. This is the pattern we picked out 26 years ago. We received all of our china as wedding presents. I love it just as much today as I did when we picked it out. The pattern is "Shenandoah", by Noritake.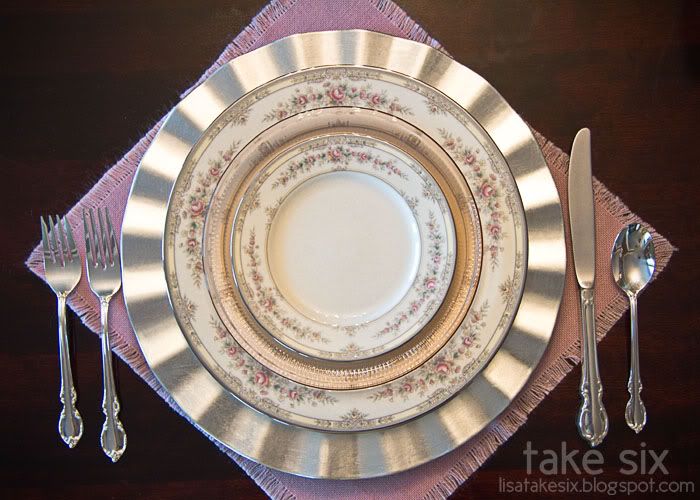 I started the setting with a pink napkin as the place mat. The ruffled look on the edge of the silver charger plate is so pretty. It looks almost pewter. I proceeded to layered the china plates, with a pink glass salad plate in between. The silverware is "Reflection" by Rogers Bros. The pink and green water goblets came from a beautiful gift store that has since closed. I miss "Le Cache".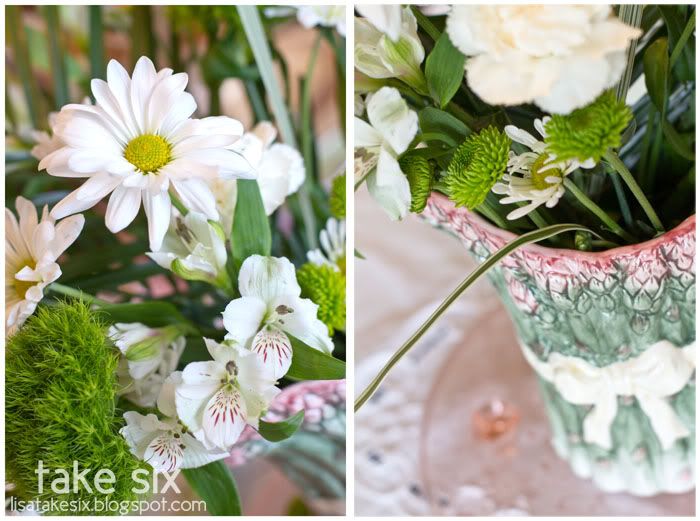 The centerpiece is very simple. I love pitchers, and have a small collection. I thought this pitcher (a cluster of tied asparagus) would continue the pink and green color theme very well. Since I wanted the focus to be more on the pitcher, I chose some grocery store flowers that would blend in well. The pitcher is sitting on a pink depression glass cake plate.
A stack of matching china teacups are nestled under a wire cloche. They are sitting on one of the pink glass plates, and then on top of an antique 'off white' plate. Notice the tiny spring bird standing guard on top!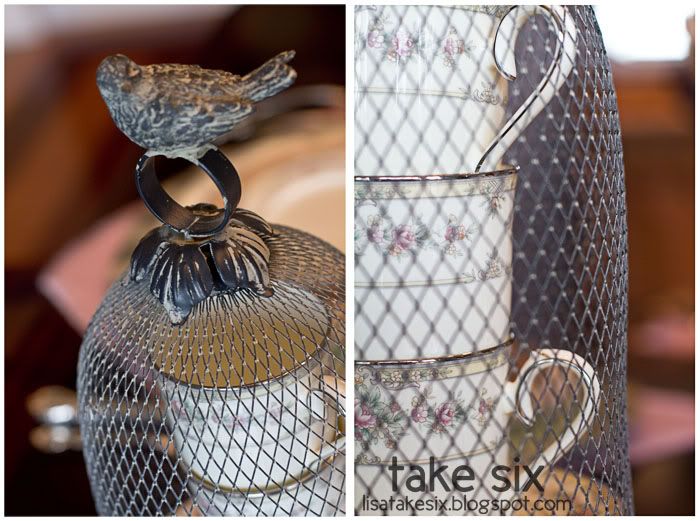 This sweet little green salt cellar has the tiniest of spoons inside.


Wikipedia says, "A salt cellar is a vessel, usually small and made of glass or silver, used on the table for holding salt. The use of salt cellars continued through the 1940's but has been in decline since, gradually replaced by salt shakers."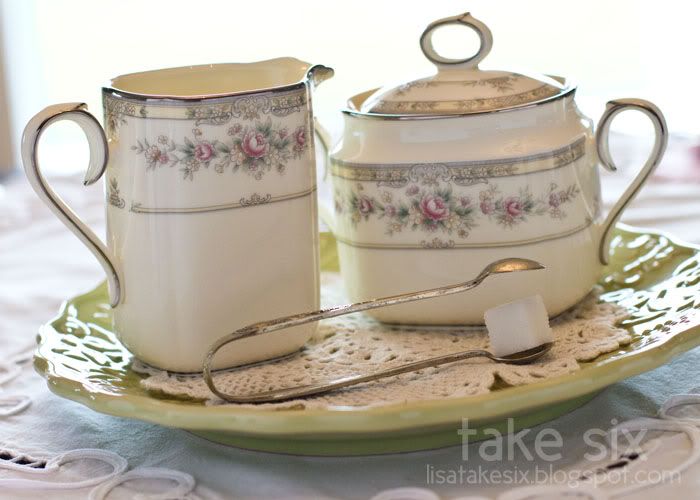 This cream and sugar matches our china pattern. I just love sugar cubes! The little silver tongs belonged to a family friend until they were gifted to me when he passed away.
Pedestal cake plates just look so fun and elegant. Believe me when I tell you, I would not have to try AT ALL to want to collect them. I am restraining myself!! I made this pedestal plate out of a tea cup and plate that I got on clearance at Home Sense. I have stacked alternating (pink glass ware and china) plates on this one in preparation for our Mother's Day dessert!


I would like to thank my daughter, Nicole, for taking the photos for this post. She is currently studying photography and is going to have no problem making a career out of her photography passion. (Proud mama speaking!) Please visit her at Nicole Payzant Photography, and tell her you saw her photos on "Take Six"!!


I am joining Susan at "Between Naps on the Porch" for Tablescape Thursday! If you like dishes even a bit, and table settings. . . there is just no other place to be on a Thursday!!

I am also joining Sherry at The Charm of Home for her "Home Sweet Home" Party. You will want to stop by and see all the super ideas there!

For the very first time I am joining the party at How Sweet the Sound. It is called "Pink Saturday". If you love pink, this is the place to be!

Last, but certainly not least, I am joining Courtney at French Country Cottage, for her "Feathered Nest Friday" party. Check out her backyard makeover! Oh my!!!!