I thoroughly enjoy the four different seasons in my corner of the world. However, my absolute favorite season is Autumn. I love the beauty of nature in fall, the gathering of the harvest and the anticipation of "battening down the hatches" for an Atlantic Canadian winter. This tablescape celebrates my favorite season.
As you can see, I left my burlap runner on from my previous fall tablescape. It just "says fall" so well, that I thought, why change it?
The crystal wine glasses were a gift. They are Nova Scotian Crystal, made about 20 minutes from my home. In the summer they open side doors at the factory and you can watch the craftsmen blow the glass into crystal pieces the old fashioned way. Such talent!
I explained in my last tablescape that Lisa lived on the Canadian Prairies for several years. One year when she arrived home for Christmas she had tucked in her suitcase that beautiful golden bunch of wheat...FOR ME!!!! I just love it, and decorate with it each fall.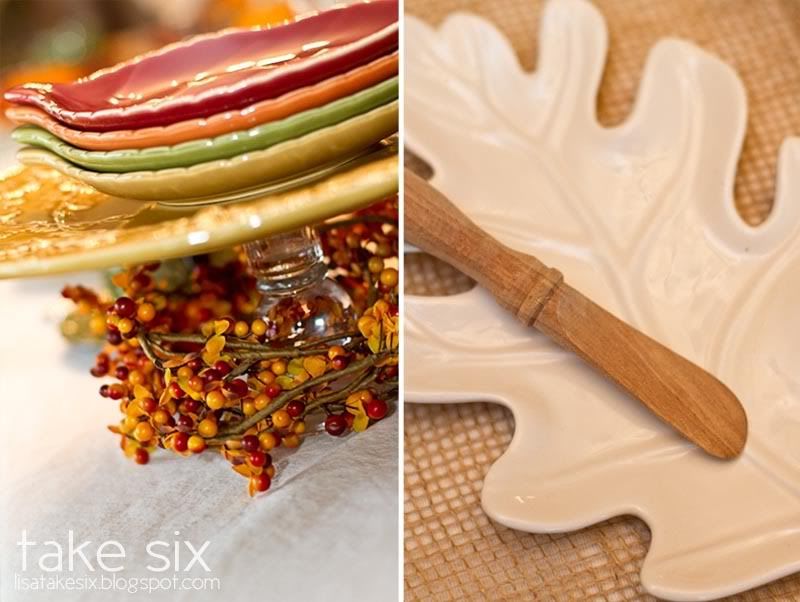 This is another of my homemade pedestal plates. The plate was $3 on clearance at Home Sense, and the base is a glass candle holder from...you guessed it...Dollarama!! I wrapped a piece of bittersweet garland into a wreath shape and set the base into it.
I took apart another fall garland, and used a piece for some color on each of the plates.
H A P P Y O C T O B E R !
Delicious autumn!
My very soul is wedded to it,
and if I were a bird I would fly about the earth
seeking the successive autumns.