Halloween

has never been an "occasion" that I looked forward to. Even as a child I didn't plan my costumes weeks in advance. I frantically found a costume after supper, when it was time to go trick or treating! I think it all started the Halloween that I was old enough to really know what was going on. My parents told me, I spent the whole evening in the bathroom because I was scared to see the trick or treaters when they came to the door!!!
Fast forward...ummm...a few years, and I saw a picture of a table all set for

Halloween

in purple, green and black. That picture inspired me to have some fun with "pretty" and "cute"

Halloween

. There's nothing scary on this table!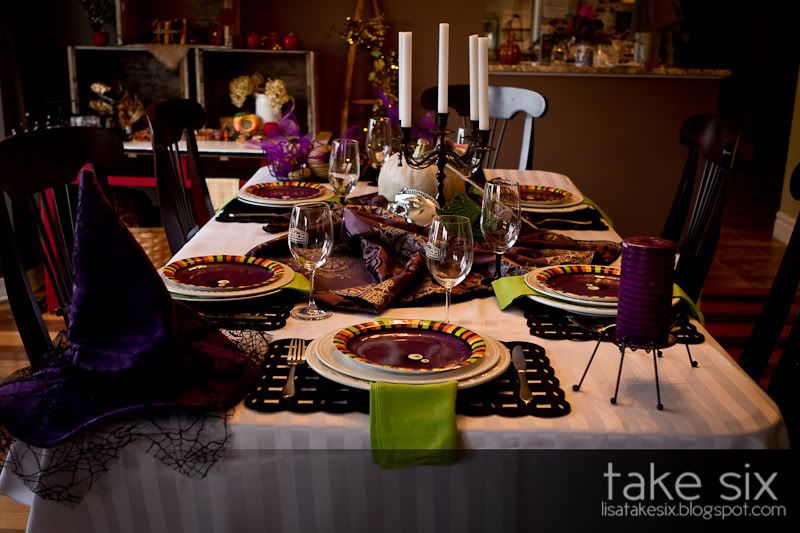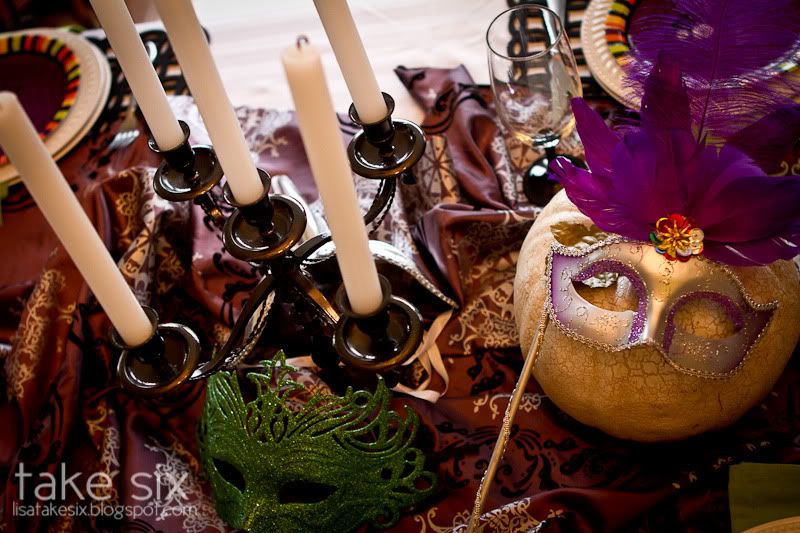 This candelabra has been in our home for years. I recently spray painted it black. Much better than brass! The three masks I placed in the center are all from the Dollarama!!
When I picked up these place mats this summer on a clearance sale (I believe they were .39) I immediately thought of spider webs! My new little spider plates are so cute. They fit into the color scheme so well. Guess what? They are paper!
(shhhhh!!!)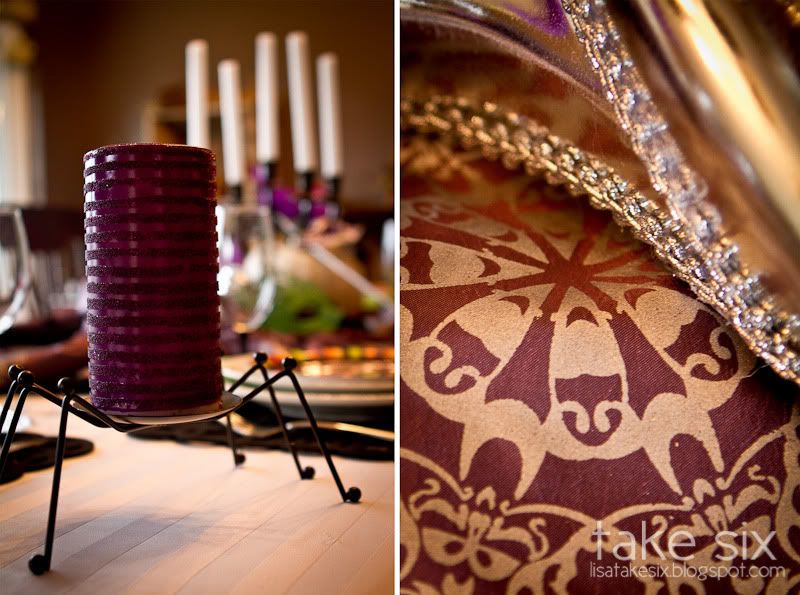 A closeup of the purple, silver and black tablecloth I scrunched up in the center of the table. It has a black tassel on each corner.

These little pantyhose pumpkins are all over blog land this fall. Are they not SWEET!!! I found two different pair of hose on clearance @ Walmart. They are so easily made by dropping a pumpkin down in one leg and tying it off with an elastic. I then cut the excess off and tied a piece of purple tulle around the stem. Just stitch or staple up one end and start again. You can use one leg to cover several of the tiny pumpkins.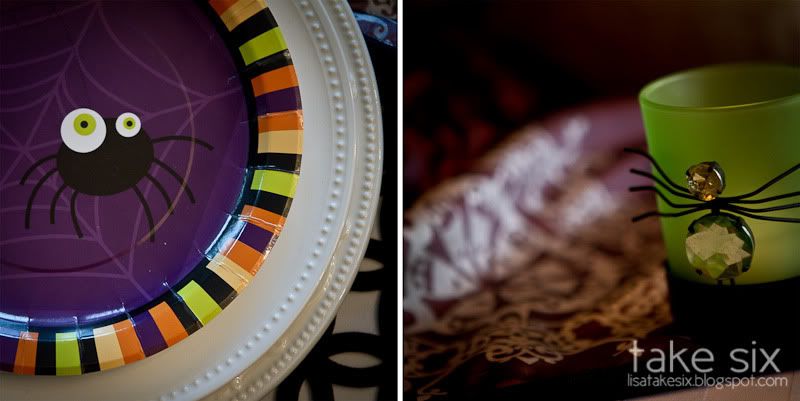 My tiny spider votive holder is also from Dollarama!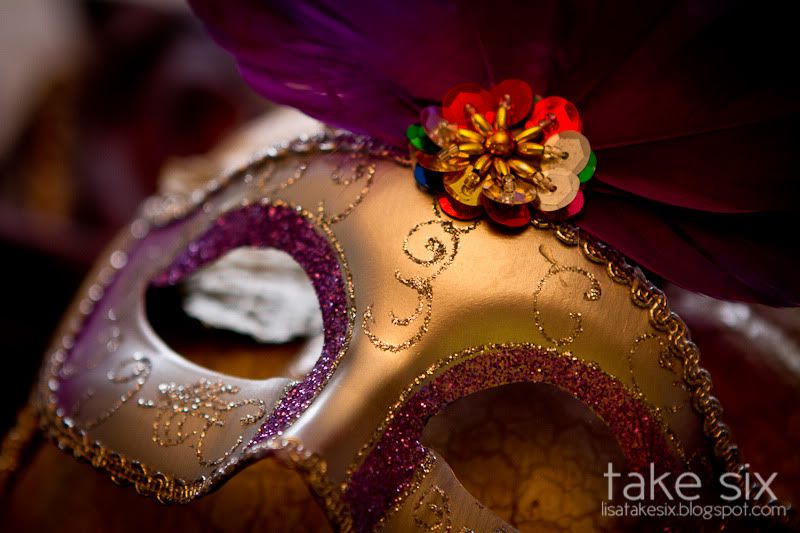 When someone breaks our wings,
we simply continue to fly - on a broomstick.
We're flexible like that.
I would never say who this witches hat belongs to. But...my favorite color is purple! ;0)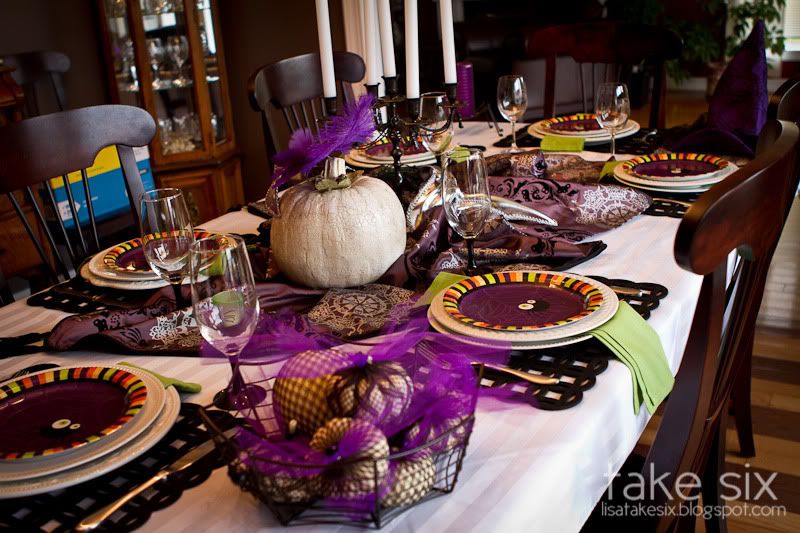 Happy Halloween!
Please come back Friday for our final Recipe for

Pumpkin Month

@ Take Six!
Many hugs again, to my daughter Nicole, for photographing my table. If you haven't yet popped over to her website, please do!