Today I am excited to share with you a Thanksgiving tablescape. For our (Canadian) Thanksgiving, in October, we had a gathering with my husbands family at our spot in the country. You can see that table HERE. It was a casual outdoor tablescape on a gorgeous warm fall day. To wish my family and friends in the US a Happy (American) Thanksgiving I have dressed it up a bit!!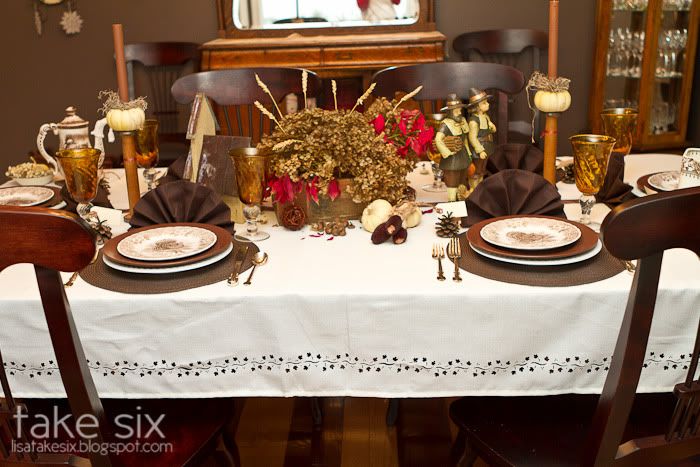 I love to use lots of natural elements in my fall decorating. The dining room table is no exception. My new brown plates that I bought for a song this summer, were the perfect color, and I continued that color theme throughout the table.
Does this napkin fold remind you of any Thanksgiving symbol? Did you say a turkey with his feathers spread out as he struts around the farmyard? You would be correct! Follow the easy step by step directions to fold your napkins this way
HERE
.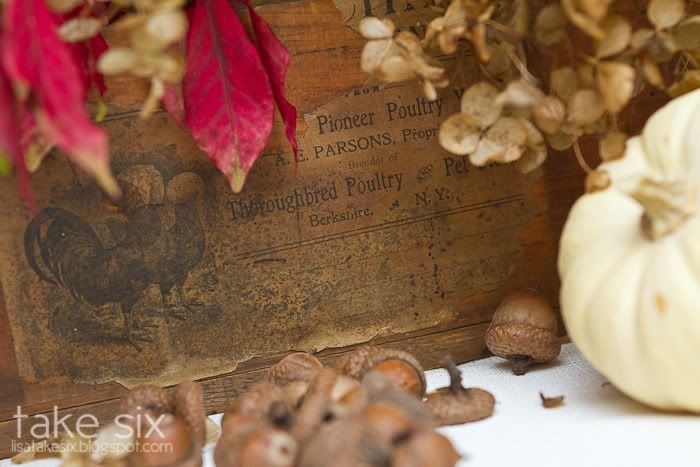 This summer as I was poking around an antique store in an old barn in Maine, I spotted this wooden box. Knowing it would be a perfect base for a Thanksgiving centerpiece, I brought it home!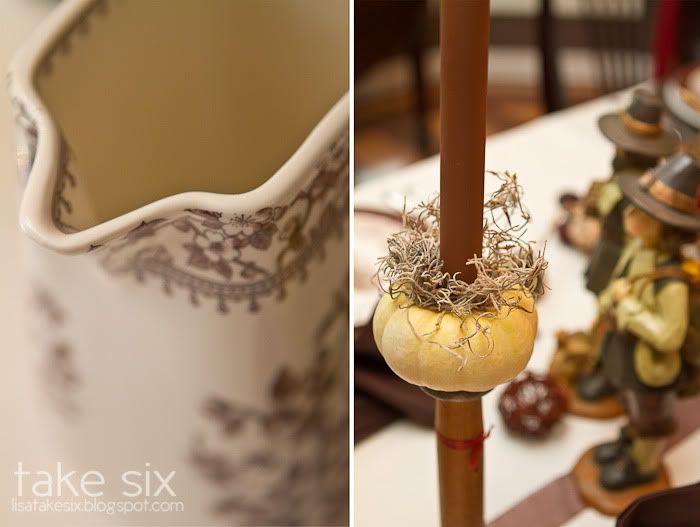 Tip: If you want a particular colored candle for a tablescape
(like brown)
, and you don't want to make a trip to Walmart, just paint them.
;0)
I borrowed my sisters brown transfer ware pitcher and small bowls for this table. Transfer ware is such a weakness of mine. Blue, brown, red, green, purple, it really doesn't matter to me. I love it all!!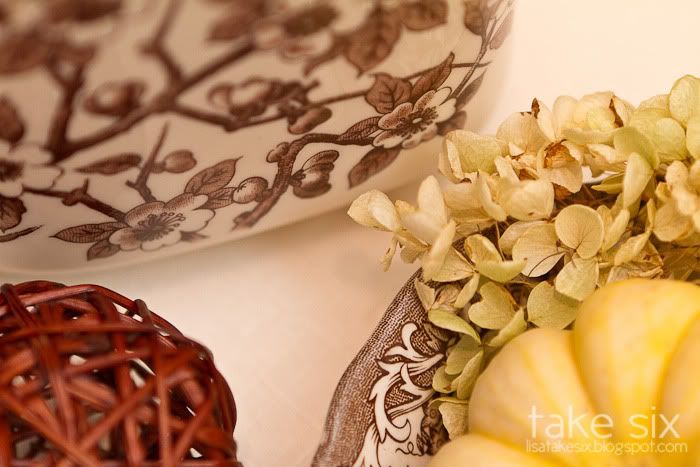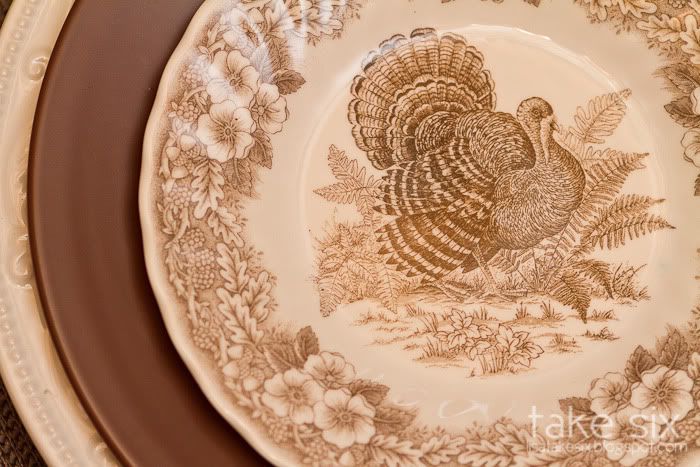 I found my turkey plates a couple years ago at Home Sense. I need a few more of the dinner plate size, so I am always on the lookout.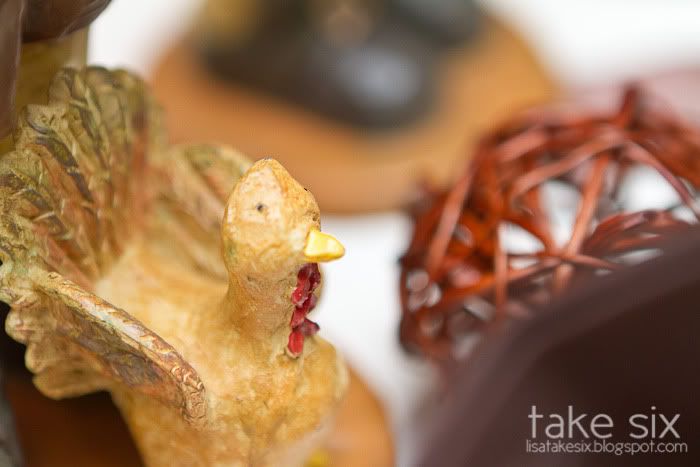 This little turkey sits at one of the pilgrims feet. They belong to my sister as well. Beautiful!!
My grandmother gave me this tea pot many years ago! My crocheted "drip preventer" was made by dad. He was a fabulous crocheter. I am blessed to have a table cloth made by his hands as well.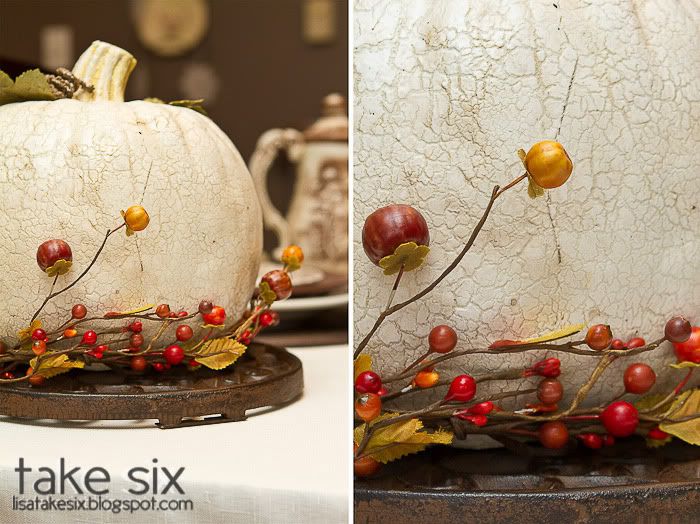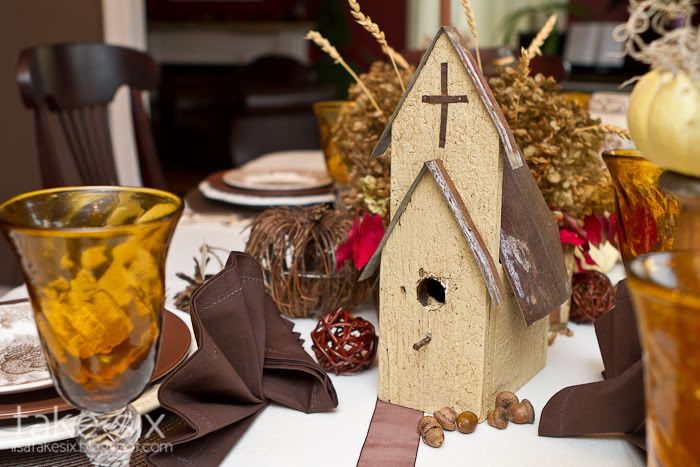 "Enter His gates with Thanksgiving, and His courts with praise. Give thanks to Him; bless His name."
Psalm 100:4
Proclamation 2373 - Thanksgiving Day
"I, Franklin D. Roosevelt,President of the United States of America, do hereby designate Thursday, the twenty-third of November, 1939, as a day of general thanksgiving.
More than. three centuries ago at the season of the gathering in of the harvest, the Pilgrims humbly paused in their work and gave thanks to God for the preservation of their community and for the abundant yield of the soil. A century and a half later, after the new Nation had been formed, and the charter of government, the Constitution of the Republic, had received the assent of the States, President Washington and his successors invited the people of the Nation to lay down their tasks one day in the year and give thanks for the blessings that had been granted them by Divine Providence. It is fitting that we should continue this hallowed custom and select a day in 1939 to be dedicated to reverent thoughts of thanksgiving.
Our Nation has gone steadily forward in the application of democratic processes to economic and social problems. We have faced the specters of business depression, of unemployment, and of widespread agricultural distress, and our positive efforts to alleviate these conditions have met with heartening results. We have also been permitted to see the fruition of measures which we have undertaken in the realms of health, social welfare, and the conservation of resources. As a Nation we are deeply grateful that in a world of turmoil we are at peace with all countries, and we especially rejoice in the strengthened bonds of our friendship with the other peoples of the Western Hemisphere.
Let us, on the day set aside for this purpose, give thanks to the Ruler of the Universe for the strength which He has vouchsafed us to carry on our daily labors and for the hope that lives within us of the coming of a day when peace and the productive activities of peace shall reign on every continent."

Franklin D. Roosevelt
October 31, 1939
Wishing all our family and friends in the United States a blessed Thanksgiving!
All photos courtesy of Nicole Payzant Photography.
Take Six is on
Facebook
!!