As I told you last week, I was involved in planning our church Ladies Retreat this year. If you would like to, you can read the post on the retreat "Gift Bags". Another of my responsibilities, on the Retreat Committee, was table centerpieces/decorations. This is the Check-in Table where the ladies picked up their name tags the first evening.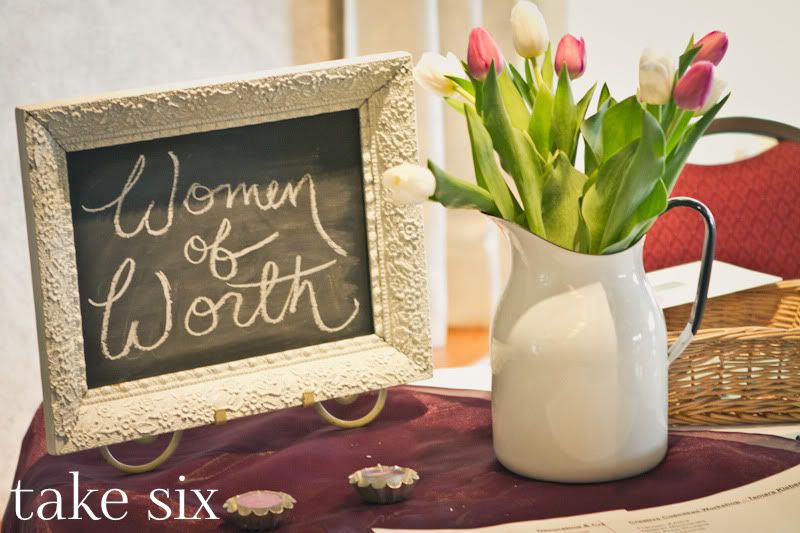 I was planning to put the centerpieces on the tables where we would be having our meals. But once we got there and saw the tables, it was clear there would not be enough room for centerpieces.
So being the flexible woman I am, * cough,
choke
* I used them in another area. The room where the check-in table was, had a big fireplace, lots of comfy seating, 2 coffee tables, and four tables with chairs around them. This was the main "kick back and relax" area for the retreat. So it was perfect to give this area some pretty decor.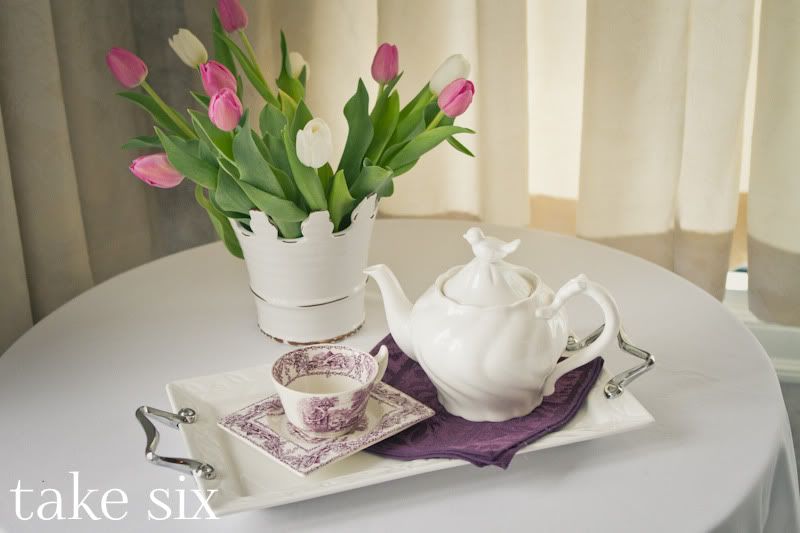 Having used the teacup theme for the "gift bags," I used teapots in the centerpieces. This white one is such a beauty with the little bird on the lid. Purple was our retreat color, so I tried to put a splash of it in the decorations.
FYI - When you purchase tulips that are still tightly closed and look to be purple, beware!! They may be pink once they open. :( Yes Lord, I am learning to be more flexible.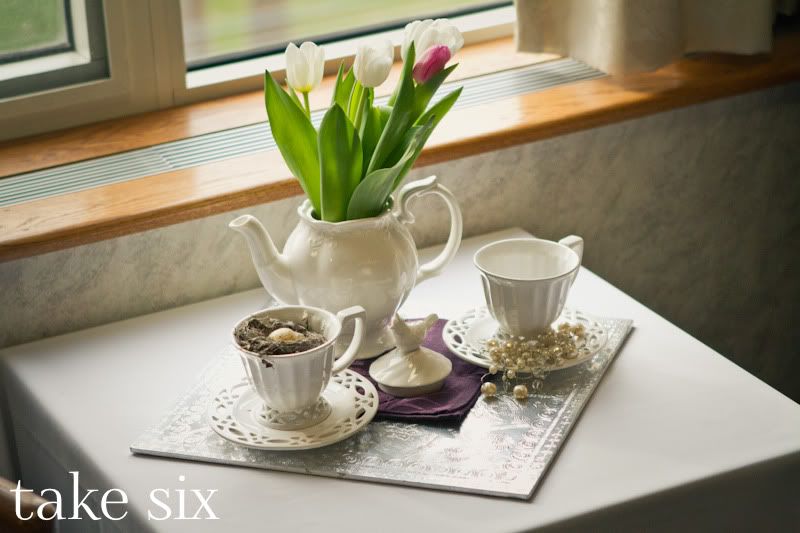 For the story behind this beautiful silver place mat, check out my "Winter White" tablescape.
These centerpieces were on four tables in the middle of the room. A great spot to relax with a treasured friend or develop a new relationship.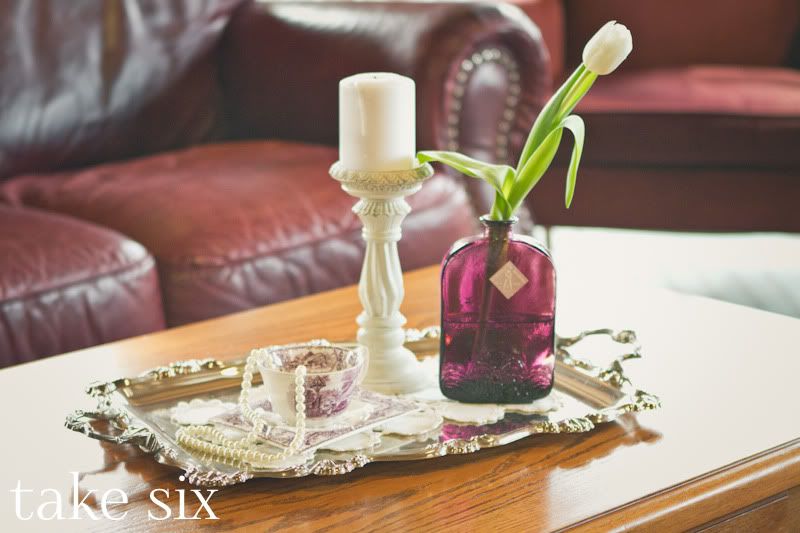 This centerpiece was my daughter's favorite. So since she was the photographer, there are THREE pictures of it!! :)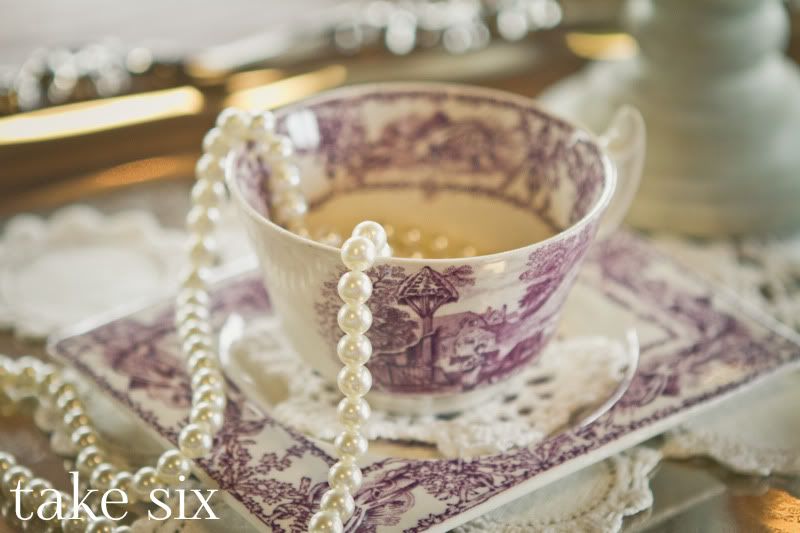 Themed water bottle labels are such a fun touch!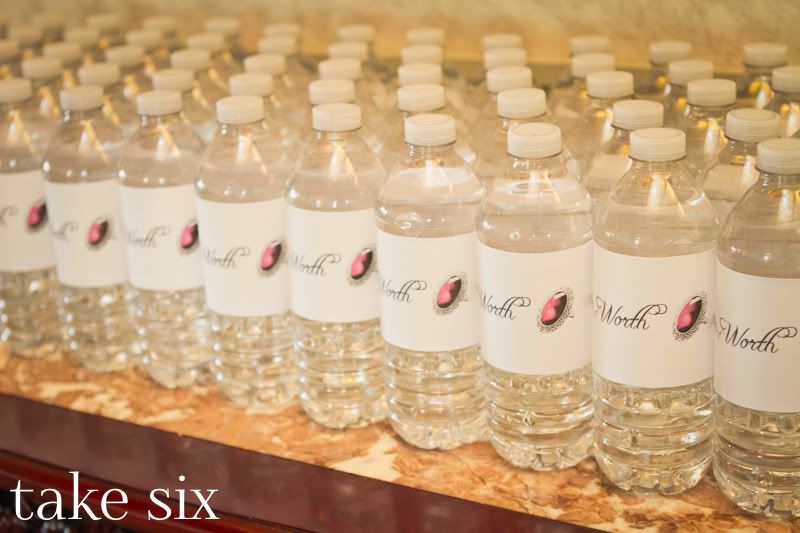 I have a few more things to share with you from the retreat, so stay tuned!
Photos courtesy of
Nicole Payzant Photography
.
Joining:
Tablescape Thursday
Share Your Creations
Open House
Strut Your Stuff
Pink Saturday
Seasonal Sunday
Creative Me
Wow Us Wednesday
Make It Yourself Monday