Oh what a night!! We had a fabulous time at our church's Christmas Ladies night on Friday. We call it Sights and Sounds of Christmas. My sister-in-law, Nancy did a great workshop on tablescape ideas using white plates. She showed the ladies 6 different themes. Please bare with us, if everything on the table isn't straight and all cutlery in the correct spot. I was her "right hand" and we did this mini workshop in 15 minutes. There were 3 groups of ladies that saw this workshop and we only had 5 minutes in between to basically dump everything from each place setting in a separate basket and start over again with the next group. Phewf!!
I knew you would want to see her great ideas, so
Nicole
took some pictures! :)
Red & White
A simple red place mat sets off the white dishes so well. The ladies were encouraged to think outside of the box with tree ornaments, and use them for more than hanging on a tree. The little glass mitten is a tree ornament used as a table decoration, or take home favor for your guests. A chocolate wrapped in red foil adds some more of that festive color. A quick idea for a pretty place card is a simple gift tag.
Black & Silver
A black place mat is the perfect beginning to this square place setting. I love these silver chargers. Nancy shared two options for napkins. A grey napkin tied with a black satin ribbon, and decorated with tree ornaments. The black napkin has a simple silver napkin ring. She found sticky strips of rhinestones at the Dollarama, and attached a few to the silver napkin ring, and some more to the front of the stemware base. It really gives them some bling!!
Brown & Gold
Chocolate brown and gold are beautiful together. Nancy tied the napkin and cutlery together with a gold piece of raffia. More tree ornaments are found in this place setting with the gorgeous pine cones. A chocolate treat for each guest is tucked in this pretty gold box (Dollarama). A little bit of fresh cedar really adds a lot of holiday cheer to your place settings.
Frosty Blue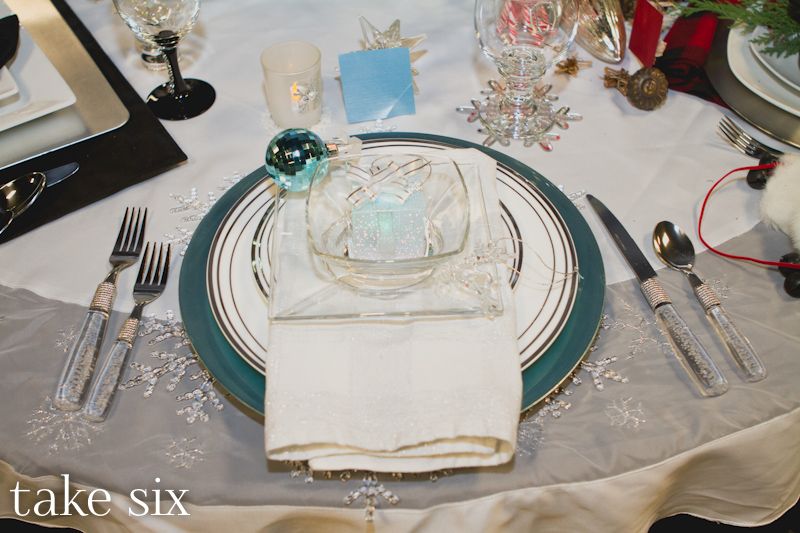 What a great tablescape theme for the holidays, or for a special dinner during the chilly winter months. The place mat for this place setting is a plastic snowflake (Dollarama). They are so pretty. The stemware is also sitting on a small mirror snowflake. She continued the blue theme through the charger, and round tree ball and also by standing a blue place card up against a clear candle holder. The little present in the bowl is a tree ornament that is battery operated, and changes color.
Children's Gingerbread Table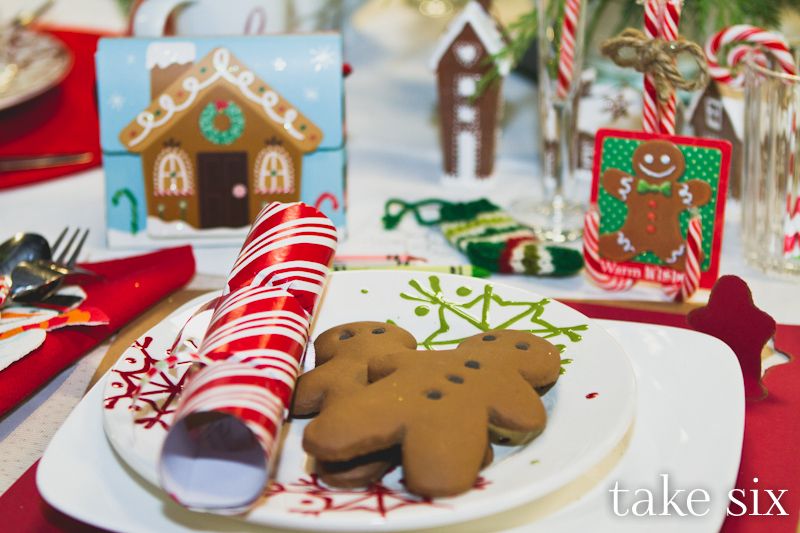 Nancy has three sweet little grandsons. I'm sure she was thinking about them as she pulled this children's place setting together. The place mats are two pieces of scrapbooking paper. They will be perfect for occupying the boys with the crayons you see at the head of the plate. The crayons can be stored in the cute little gingerbread house box. Note on the top right corner of the red paper that she has traced a gingerbread cookie cutter and then cut it all out except for the bottom. She folded the paper up and it has become her place card! The other option for a sweet place card is the candy cane easel she made by gluing three candy canes together and placing a cute little card in it with the child's name on it. What could please the children at your table more than a holiday cracker, and gingerbread cookies.
Rustic Log Cabin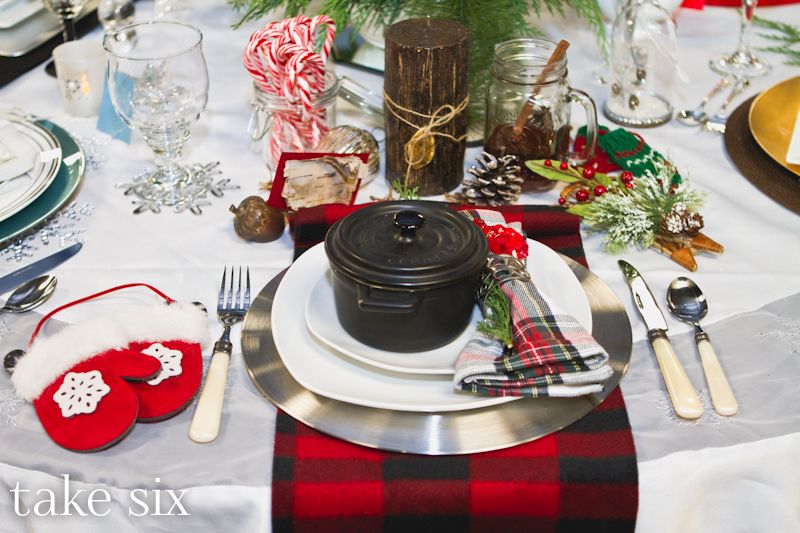 This is my favorite. I just love the relaxed, cozy feel of this theme. Nancy started this place setting by folding a warm scarf and placed it so the fringe hung down over the edge of the table! The cutlery could also have been placed inside those sweet little mittens (another tree ornament). The little black pot could be full of beans, homemade soup, chili...oh yum! A mason jar/mug containing hot apple cider, and birch bark as a place card really adds to the rustic decor. Pine cones, greenery and a plaid ribbon...she hit this one right out of the park!!!
Thank you Nancy, for the inspiration and very creative ideas you shared with us! We are ready to set our Christmas table now!! :)
Tanya
Joining:
Christmas Link Up
Table Top Tuesday