This is a tablescape to celebrate "

Apple Month

" here at Take Six.
It is simple, cozy and rustic.
Much like you would expect an apple farm and orchard to be.
The table runner is a piece off of a roll of burlap. This roll is 20" wide, and used for wrapping shrubs for the winter. Perfect for a runner! I used my little rustic ladder as the base of the centerpiece.
The container that holds my centerpiece is one of my grandmother's well worn baking pans. I wonder what was cooked in it?
For 10 years one of my sisters, lived on the flat lands of Western Canada. She missed fall in the East, and the beautiful display of colors and falling leaves. My dad gathered leaves and pressed them flat. He did that with some oak leaves and spray painted them gold. He sent them out west to give Lisa a taste of fall at home. This is one of those special leaves.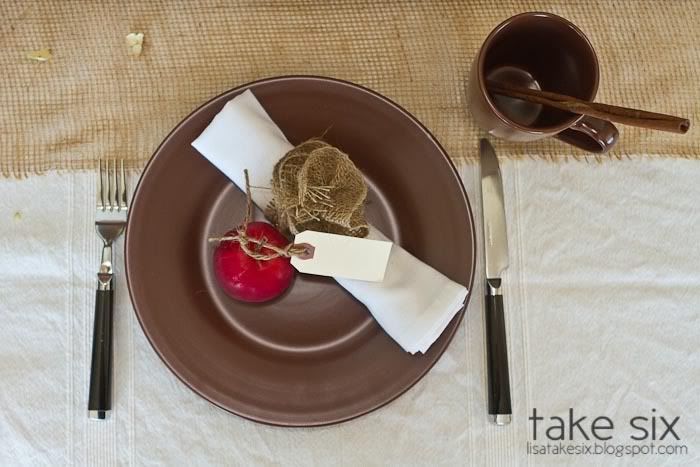 I have to tell you about my new brown dishes. I picked these up for a song this summer in Maine at a surplus store. A four piece place setting for $14.99. I grabbed two boxes!! I think they will be so versatile, and I love the rich chocolate brown color. I had such fun making the burlap rosette napkin rings. They are so easy! Find my tutorial HERE.
These are my two place card holders. Aren't the little wooden apples cute. My sister, Lisa, gave me those several years ago. There is a little slit in them to slide in the card. But I also thought it would be cute to tie a place card onto an apple stem...so I just used both!!!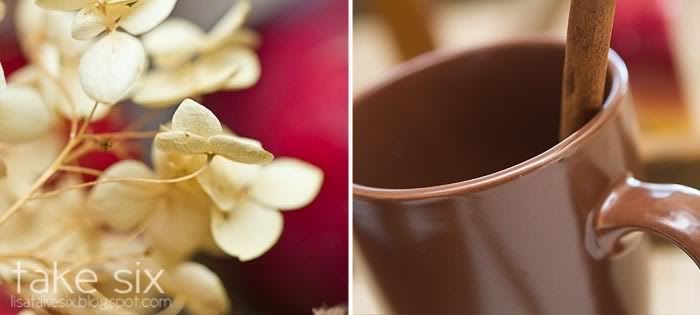 Cinnamon sticks are all ready to stir the hot apple cider!
I love all the neutral shades, and the pop of red!
This apple is from my collection of pitchers...
These apple S & P shakers have flavored our food for many years. They were a gift from my sister, Paula.
Anyone can count the seeds in an apple, but only God can count the number of apples in a seed. - Robert H.Schuller
I wish you could smell this picture. The whole dining room is full of the aroma of 'Jersey Mac' apples.
All photo's courtesy of Nicole Payzant Photography.