M
y mother has 4 grandchildren. Every year, for many years, one of our special traditions has been helping the grandchildren make gingerbread houses on the afternoon that we celebrate Grammie's birthday. In all reality, there is absolutely no help needed any more. However, it is still fun to watch the creations unfold as they do it on their own. This year was no exception. Mom's birthday fell on a Sunday this year, and we all gathered for gingerbread houses and a birthday dinner. I decided a tablescape in keeping with the theme of the day was definitely in order!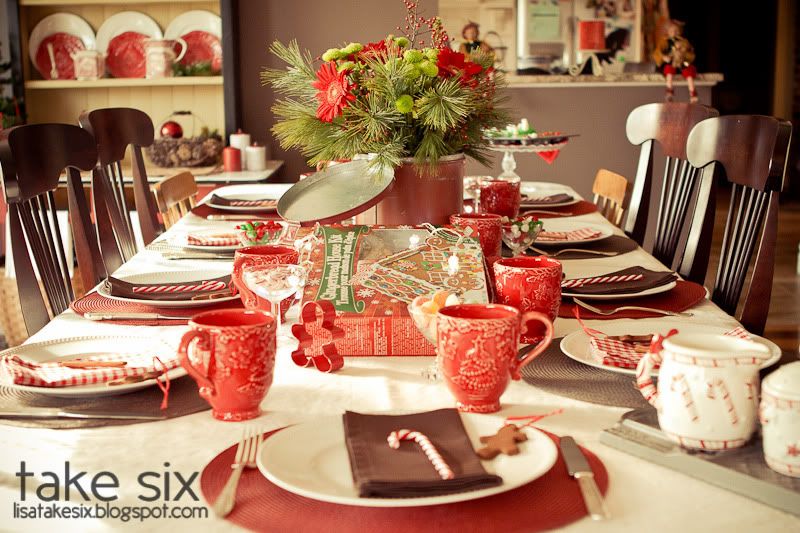 I pulled the red color from the gingerbread house kits, and brown from actual gingerbread. These, I decided, would be the colors! The table would be set for 10. Since there are not often 10 people at our table, I didn't have 10 of either of the place mat colors (Dollarama). I decided that alternating the colors would be the way to go. I also alternated the napkin colors.
My cute little gingerbread man tree ornaments are the applesauce cinnamon cut outs. Have you ever made them? They smell so good. I pack mine away in an air tight bag or container each year and have them for a long time. I made this batch last year. They would be a sweet place card, or a take home favor for your guests.
Apple Sauce Cinnamon Ornaments
1C Cinnamon
1 tbsp ground cloves
1 tbsp ground nutmeg
3/4C apple sauce
2 tbsp white glue
Combine ingredients, knead until smooth. Roll out to 1/4" thickness. Use Christmas cookie cutters to cut out. Poke a straw into the top to make a hole for a ribbon to hang it with. Let air dry for at least 24 hours, turn them over a couple times. OR bake at 200 degrees for a couple hours until dried out. I have done this both ways...and MUCH prefer the air dried method. I found the oven drying method faded the color out and I prefer darker ornaments. (You can see the difference in color in the above picture.)
The floral arrangement is in a vintage flour canister that I picked up last year at a second hand store. I bought four Gerber daisies and a bundle of lime green mums at the grocery store. The pine, spruce, and berries are from my back yard. I place a large vase in the canister and put all the greenery in first. Then the mums and daisies were added and lastly the berries. I don't think I have ever done a floral arrangement in my life! So I was pleased. A couple shots of gold glitter hairspray finished it off nicely! (Note: Use the glitter hairspray BEFORE you put your dishes on the table ;0)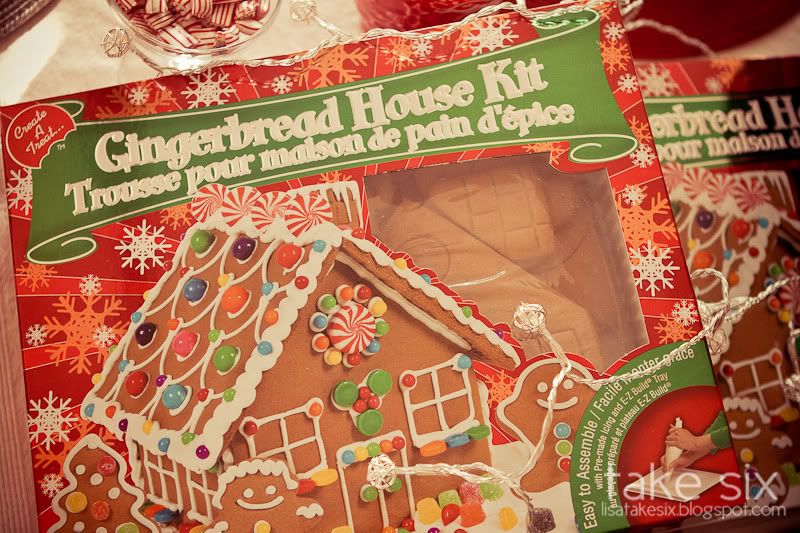 Two gingerbread house kits were leaning on each side of the floral arrangement. Do you see the little set of battery operated wire ball mini lights draped across the box? They are so cute. I found those at Home Hardware. I went back for a couple more sets a few days later and they were all gone!!!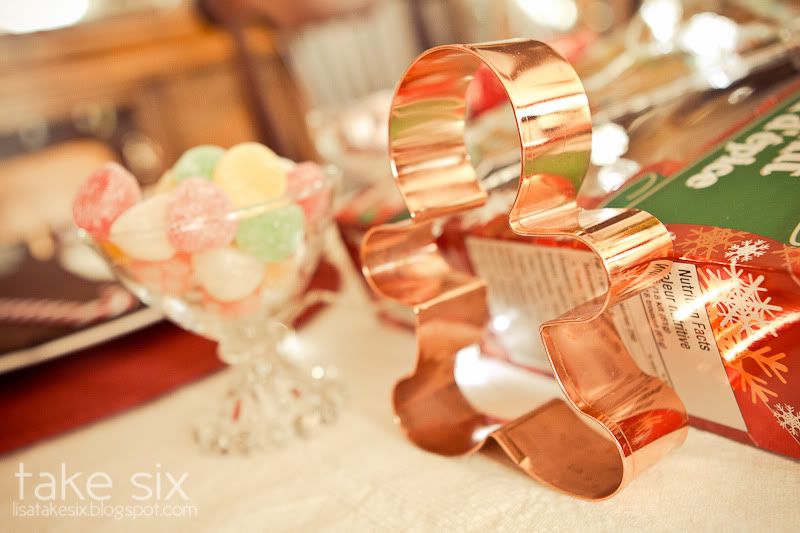 I scattered several of my gingerbread man cookie cutters on the table, as well as little dishes of "decorating candy"!!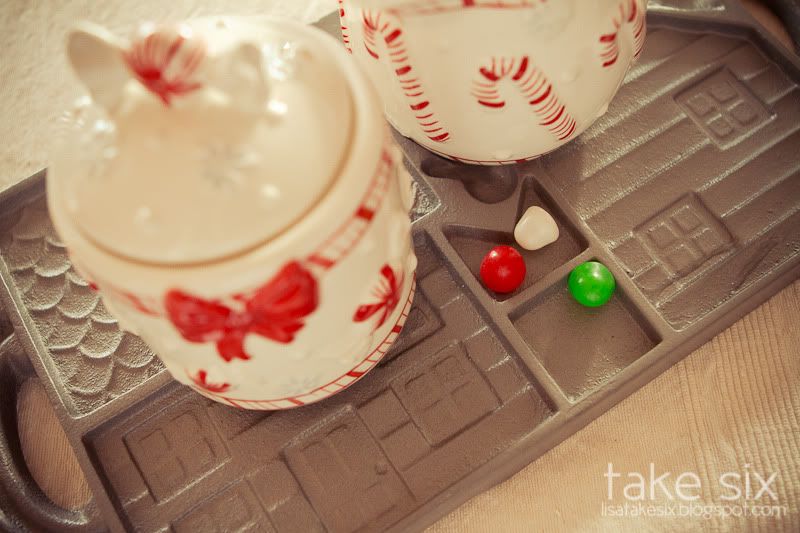 This is a mold for making your own gingerbread house (Lee Valley). I confess that I have never been motivated enough to use it. Buying the kits are just so much more of a time saver for me! I used it as a plate for the cream and sugar.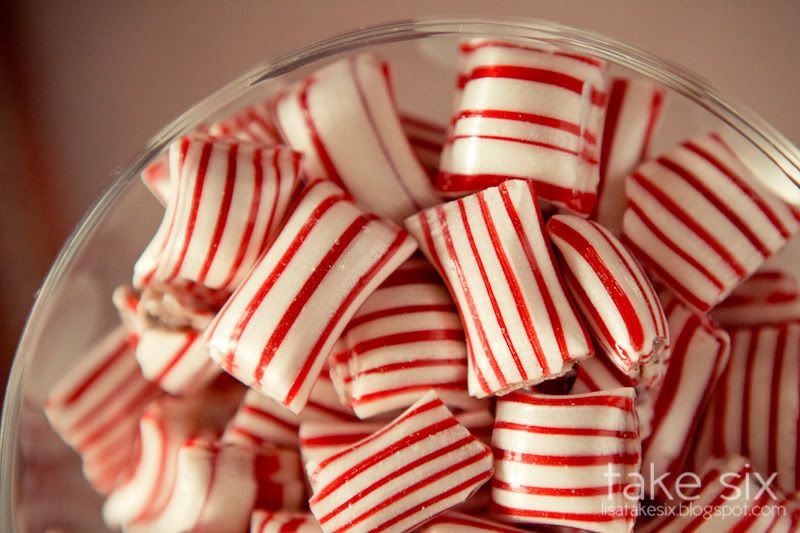 Peppermint pillows...they have chocolate in the middle!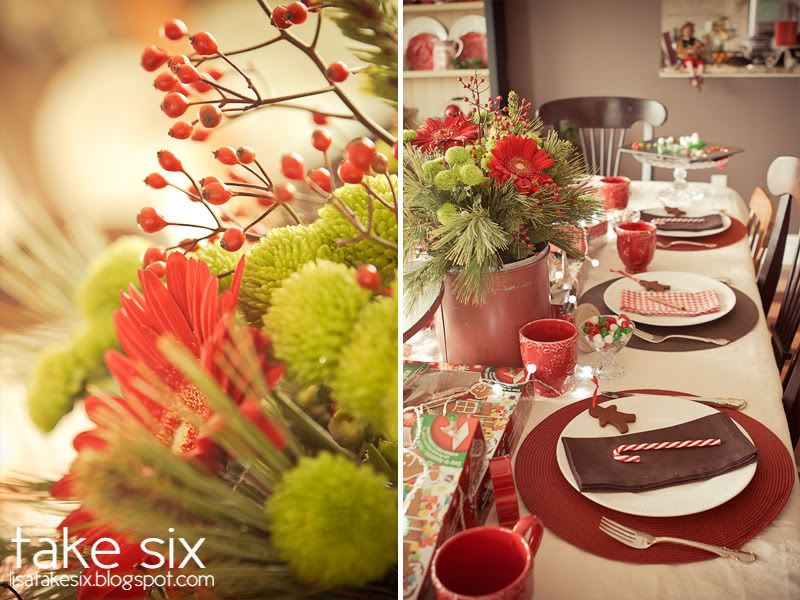 Cinnamon sticks and candy cane tree ornaments were placed on the napkins. White dinner plates were perfect with the red and brown accessories. You can see the mugs that match my Christmas dishes better in the first and last picture. They are Bordello Majolica. It is a reasonably priced pottery made in Portugal. I got mine at Home Sense several years ago. You can see the dessert plates used in another tablescape HERE.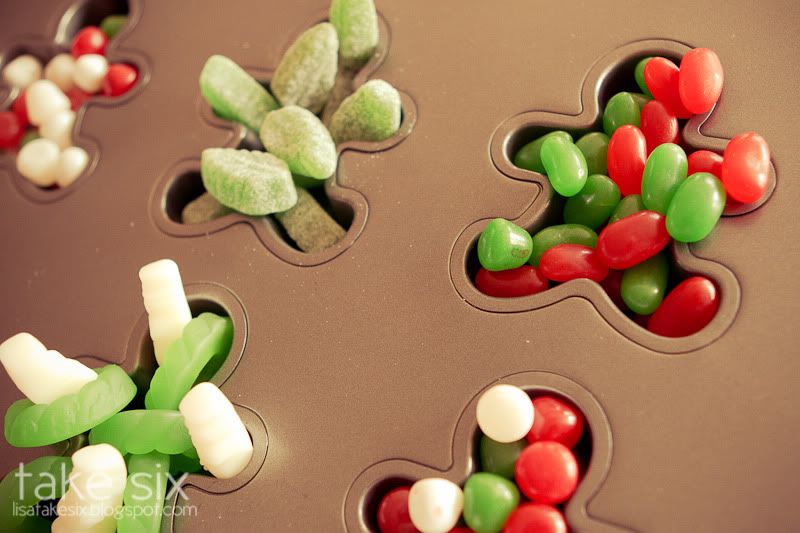 My gingerbread man muffin pan (Home Hardware), came in so handy to hold extra "decorating candy".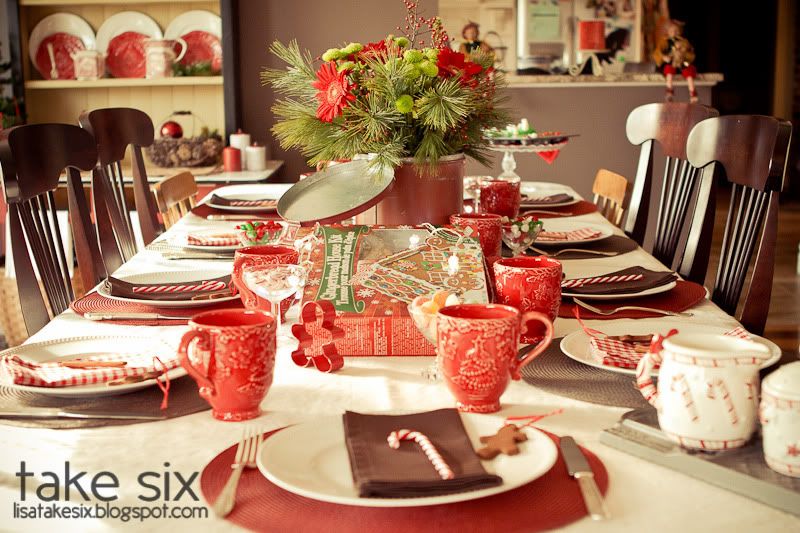 We had a great afternoon and evening together celebrating our mother and grandmother. We are so blessed to have a Godly matriarch with whom we have always been able to learn by example!
"Her children arise up, and call her blessed..." Proverbs 31:28
Thank you Nicole for the beautiful pictures.