I have always told my hubby that I should have been born in the pioneer days. I greatly enjoy the conveniences of today, but the simplicity of years gone by has such an attraction to me. Today, I am inviting you to take a little trip with me. We are going to go back to the days of no electricity and running water. Back to the days when life was simpler, and everything you had, was made with your own hands. As you read along, just pretend that you are preparing for...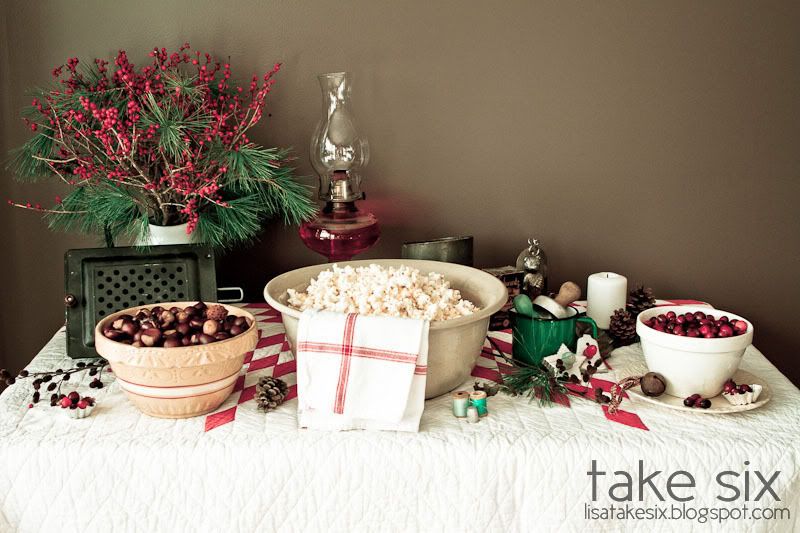 As Christmas time drew near, some family members were designated the fun job of going into the woods to select the perfect tree! In this case it was the father and son. The girls, (mother and daughters) were at home tending the fire and by the looks of this table, they were preparing some decorations for the tree.
Oil lamps and candles were ready for the long dark evening ahead. A nice big bowl of chestnuts is ready for roasting on the fire and nibbling while they decorate their Christmas tree.
The popcorn kernels were dried this fall, and have been popped in the popper held over the fire.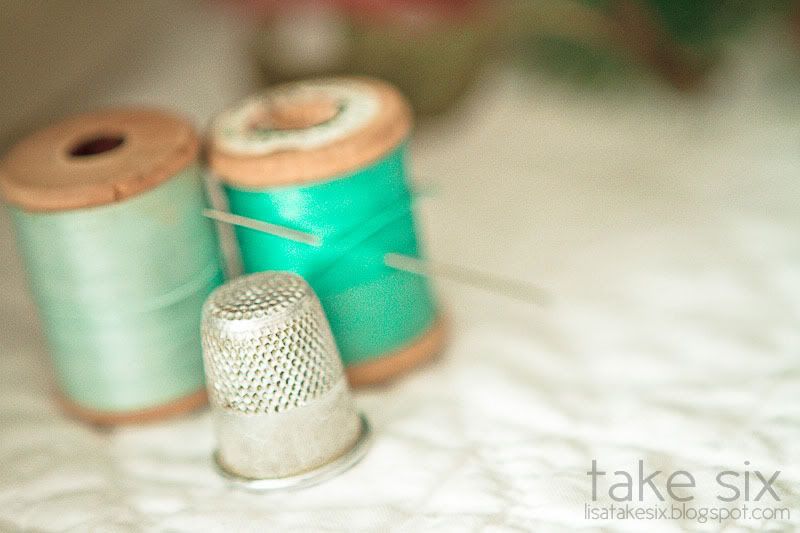 The needle and thread is at the ready, to string long garlands of popcorn interspersed with plump red cranberries for the fresh Christmas tree. Ahh...can you smell it?
Mother has placed her red and white quilt on the kitchen table as a Christmas tablecloth. Some other Christmas decorations the family has gathered in the woods nearby are; pine cones, pine boughs, alder cones, and wild holly berries.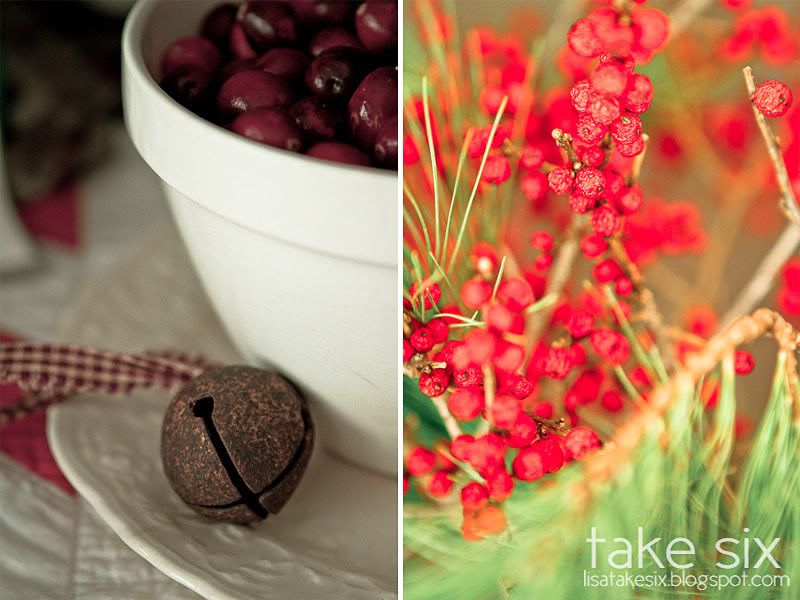 Father found an old bell on the floor of the barn. It is off the harness that he uses to hook the horses up to the sleigh. He brought it in the house and now it will be a decoration on the Christmas tree. Nothing is wasted!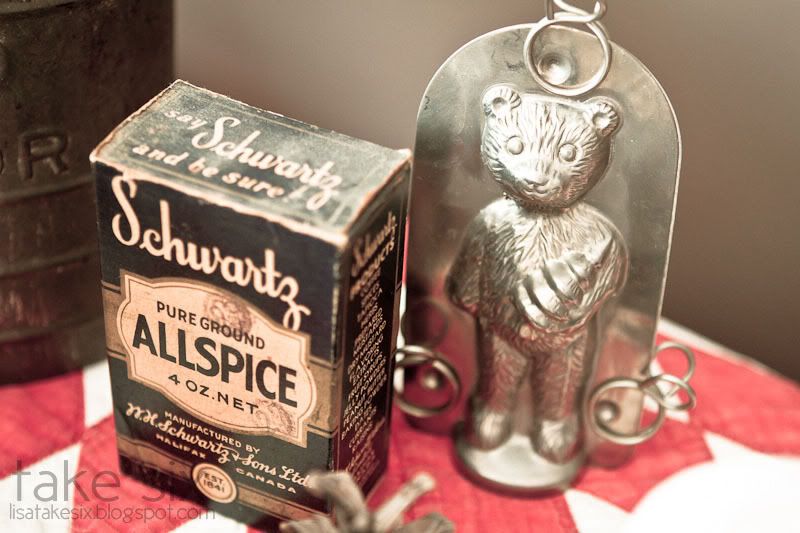 Baking is also on the girls list for this week. Spice cake and sugar cookies are two of the families favorites at Christmas time.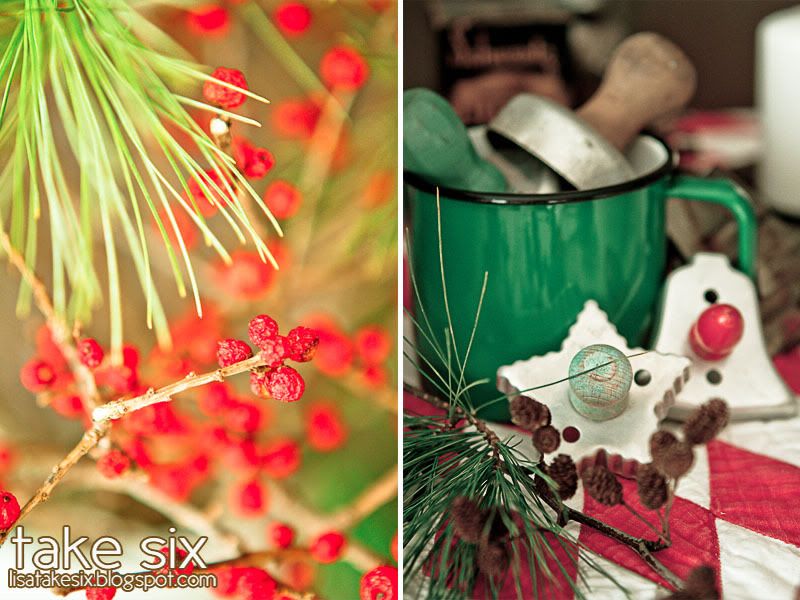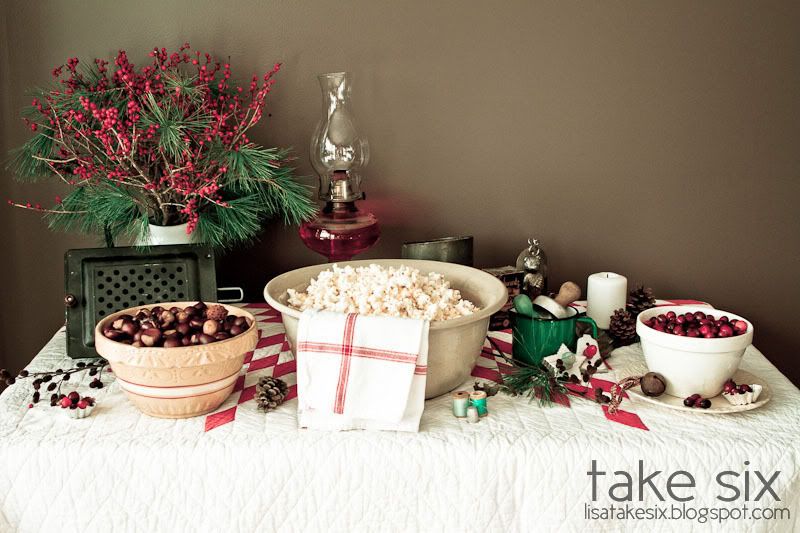 I hope you have enjoyed your brief trip through time...but it is time to come back to 2011. I really enjoy using many of these special items in my decorating each year at Christmas.
The two larger bowls belonged to my hubby's grandmother. The small white bowl, and the tin flour sifter belonged to my grandmother. The popcorn popper (sitting behind the bowl of chestnuts) belonged to my dad. The box of Schwartz Allspice is a treasure I found in an antique shop. My father worked for Schwartz Spices for many years. Long after he died, I came upon this and just couldn't leave it there! The oil lamp is not antique. The enamel pitchers, cookie cutters, and the quilt are items I have picked up in antique stores over the years.
The beautiful photos are all courtesy of my daughter. You can visit her at Nicole Payzant Photography.