Each year at Christmas time, the ladies of our church gather for a special night to kick off the Christmas season.
Sights and Sounds of Christmas
is so much fun. Our focus is on the real reason for the season, and that makes such a joyful evening. We enjoy beautiful music, a cooking demo, lots of yummy refreshments, and a decorating/craft demo. This year, "yours truly" did a demonstration on all the different ways you can decorate with Epsom Salts.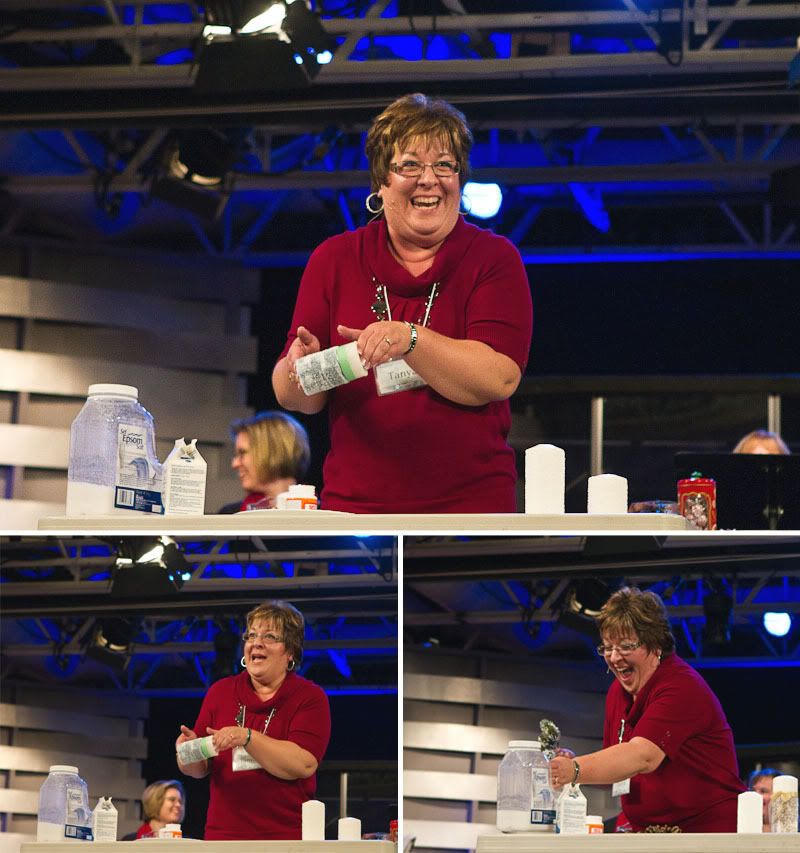 My daughter was there and snapped these pictures of me. I commented that I could have used a little less facial expression. She said, "Mom, these were the pictures with less facial expression"!! Well, I guess you can tell we were having fun!
#1 - Mason Jar Luminaries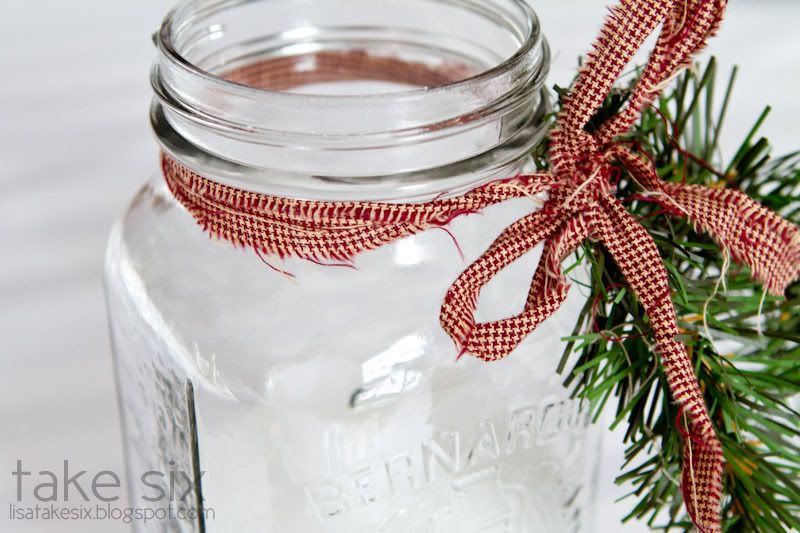 So easy! Just put a few inches of Epsom Salts in the bottom of your jar and place a votive candle inside. You can tie some fabric, raffia, or hemp string around the edge. Add some greenery, jingle bells, or any decorations you have on hand. These are so pretty lining your walkway, front steps, or inside the house going up a staircase!
#2 - Epsom Salt Tea Light Holders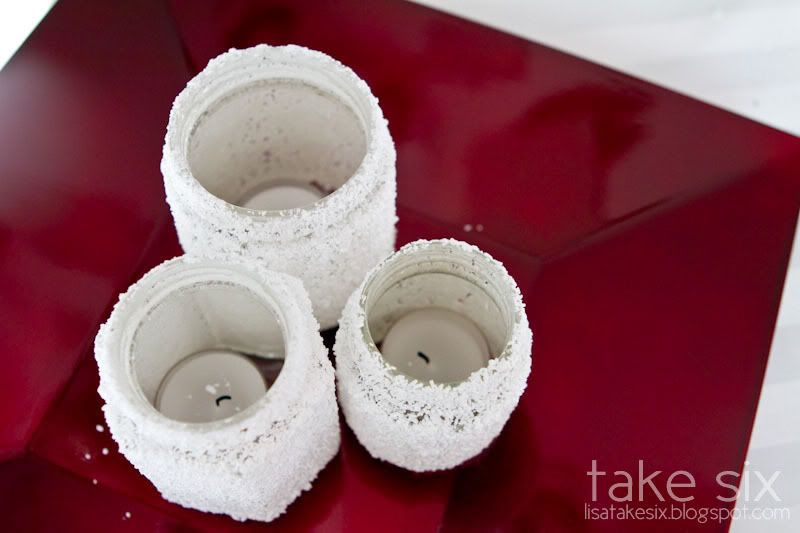 Collect some old jars. Any size goes. I wanted smaller ones since I was using it for a table centerpiece. Paint the outside of your jars with Mod Podge, and roll in Epsom Salts. Let them dry overnight. Put a tea light inside, and place on a plate, platter, or right on your table. At Sights and Sounds, we lined the center of the food tables with the mason jar luminaries and these tea light holders. They were sweet with some fresh greenery and pine cones around them.
#3 - Epsom Salt Ornament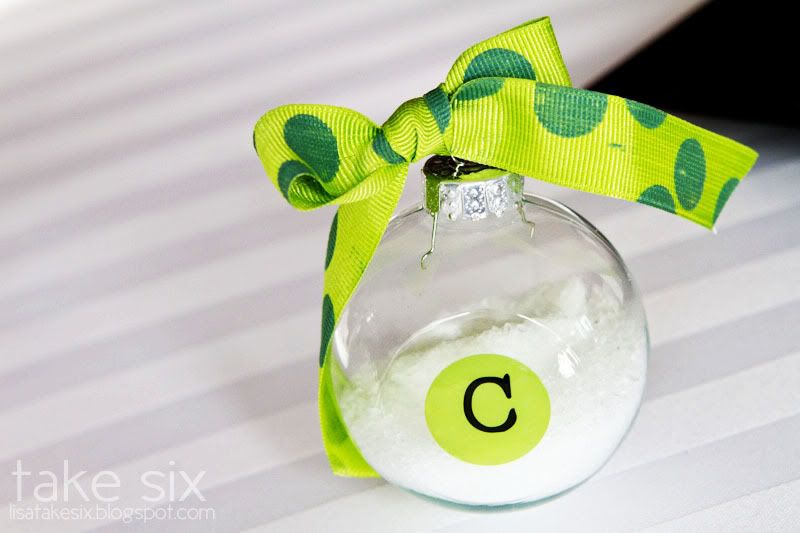 These take seconds to make. Using a funnel (make one from paper), pour some Epsom Salts in the ornament and replace the top. Tie on a ribbon and if you wish, put a letter sticker on as a monogram.
Pick up a package of styrofoam balls from the Dollar Store. Paint them with Mod Podge and roll in Epsom Salts. As you can see in the picture below, I also used some much smaller ones and strung them on ribbon for a garland on my winter tree. When Christmas is over and all the decorations get packed away, I find everything looks so bare. So that is the time that I get out my snowmen, skates, sleds, snowflakes and decorate again!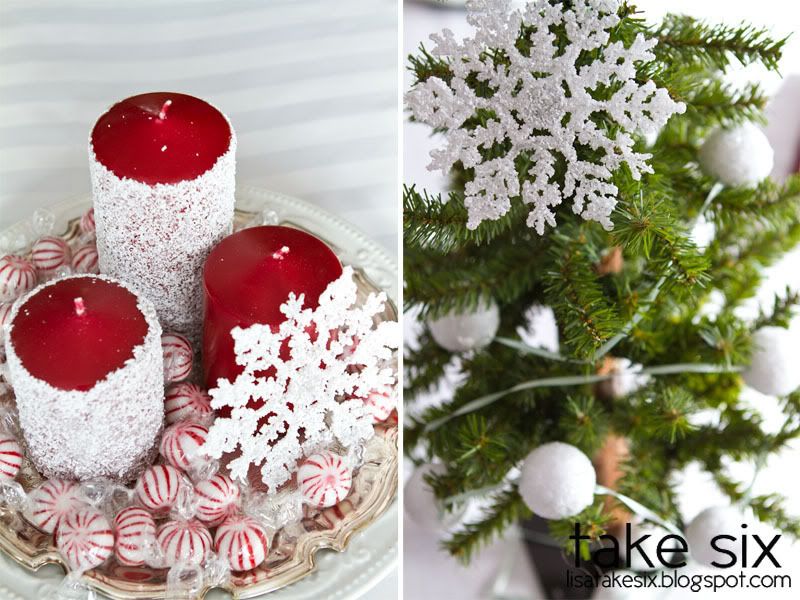 I simply painted the candles with Mod Podge, as I did the glass jars, and rolled them in Epsom Salts. I did the same with the snowflake ornaments. There were 6 in a pkg at the dollar store. How cute and frosty looking!
#6 Frosting Imitation Greenery
This is plastic greenery from the Dollar Store. Paint the ends with Mod Podge and dip in Epsom Salts!
I decided I wanted a bit of color on one of these candles. So I wrapped painters tape around, about 3/4 of the way up the tallest candle. Then I painted it with a brown tole paint. I let it dry completely before I painted a coat of Mod Podge on it and rolled it in Epsom Salts. When it was all dry, I took the tape off and tied the gold ribbon around it. The other two candles just have Mod Podge and Epsom Salts...no paint!
I hope these ideas have inspired you to pick up some Epsom Salts (at the Dollar Store) and have some fun! If you have any Epsom Salts left over, you can use it up with the Bath Salts Recipe that I posted last week.
Photos by Nicole!