The website royalalbertpatterns.com tells me that the designer of Old Country Roses, Harold Holdcroft, was probably the most famous of all of the Royal Albert designers. Old Country Roses was launched in 1962, and since then over 100,000,000 pieces have been sold worldwide. This is more than any other bone china tableware pattern.
This pattern has been handed down from mothers to daughters, and now on down to granddaughters in many homes. It has been the focal point of many special family dinners, and certainly many Christmas tables.
Today I am sharing with you a tablescape that Lisa did for our Sights and Sounds of Christmas event. She has put a new (yet old) spin on this classic pattern. Have a look with me, and be inspired to pull out your old set of china. Add a splash of non traditional color with it, to breathe new life into your Christmas table this year.
Lisa was on a missions trip to India last year, and brought home this stunning fuchsia saree. She used it as a table runner to pull out the bright shade of pink in the roses on this china pattern. Her collection of vintage glass tree ornaments looks so beautiful in the antique tube pan.
Her old world Santa with his soft pink coat and the mercury glass tree complete the centerpiece! Don't miss the bead spray (handmade by Lisa) in with the vintage ornaments. The beads are shades of pink, silver, and clear. I think she should show us how to create one of these beauties. ;)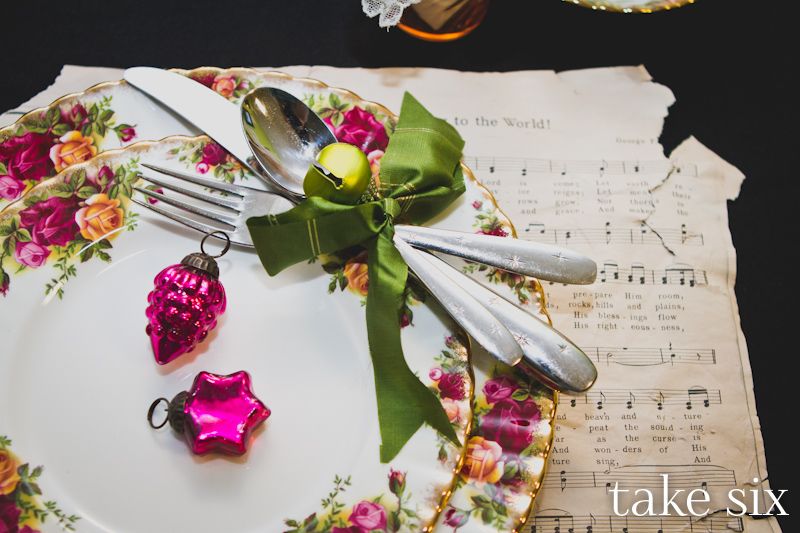 The sheet music place mats carry the vintage theme over to the place settings. They look like they are straight out of an antique music book. However, Lisa simply photocopied Christmas music and stained them in a good strong batch of tea!! Don't those fuchsia mercury glass tree ornaments look lovely on the white. They sure make the pink roses pop! The green bows and bells holding the cutlery together just spell Christmas to me!
Do you have Old Country Roses china? Was it passed down to you from a loved one? We would love to know. Share with us in the comments. :)
Tanya
Photos courtesy of Nicole Payzant Photography.
Joining:
Homespun Christmas