I'm so happy to see you today. Thank you for coming to visit. I thought we would visit outside today. Let's sit at the wrought iron table on the upper deck. This table has some history in my family. A family member brought it to Nova Scotia from New York. It was used on his outside patio in NY, and in his kitchen after he moved here. I love the fancy back of the chair, with the leaf and bow design.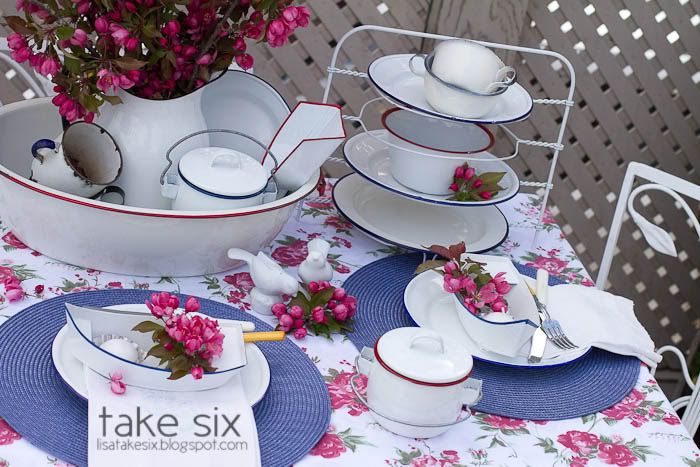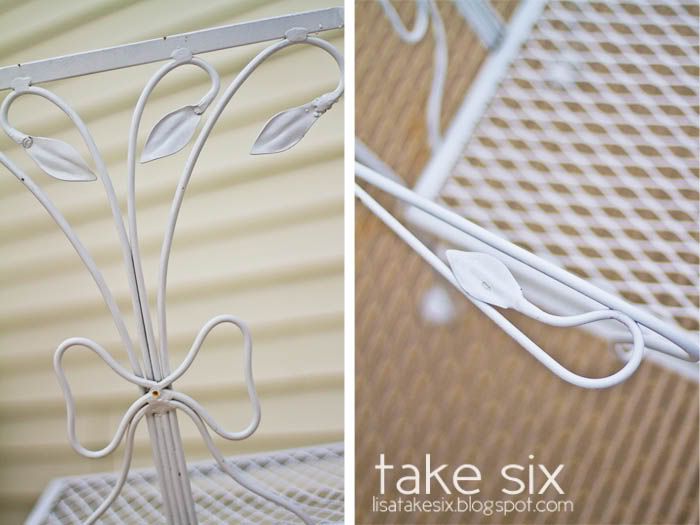 I have used some of my vintage enamel collection today. Some pieces of my collection are new replicas. I like them because of their uniqueness. For instance the Pottery Barn dory boats, and the little covered pots. However, the majority of the pieces are old, as you will be able to tell from the chips. I love the chips and nicks. Oh, the stories that they could share with us!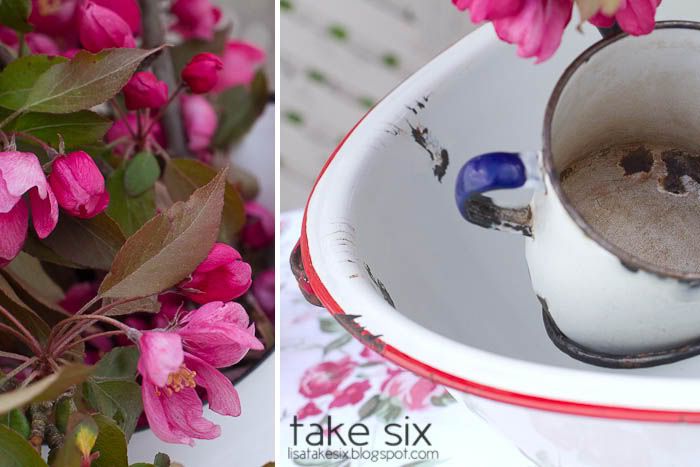 The cutlery belonged to my grandmother. I wish I knew something about it. Is it familiar to anyone? My flowering crab was kind enough to explode with color just this week, so I filled my big enamel pitcher as my centerpiece. Some smaller pieces provide a dot of color against all the white dishes.


This wire pie rack jumped right into my hands at the neatest second hand store. So I took it home and spray painted it white. For you local readers, take a drive on a Saturday or Sunday, to

"Rural Roots"

near Hubbards. Oh my, she has the neatest store. She's merchandised it by color. The blue section, pink/purple section, red section, white etc. Lisa and I are going, Lord willing, this Saturday!! I'll let you know what treasures we find!

Mismatched vintage cotton hand towels make the perfect napkins for this enamelware setting.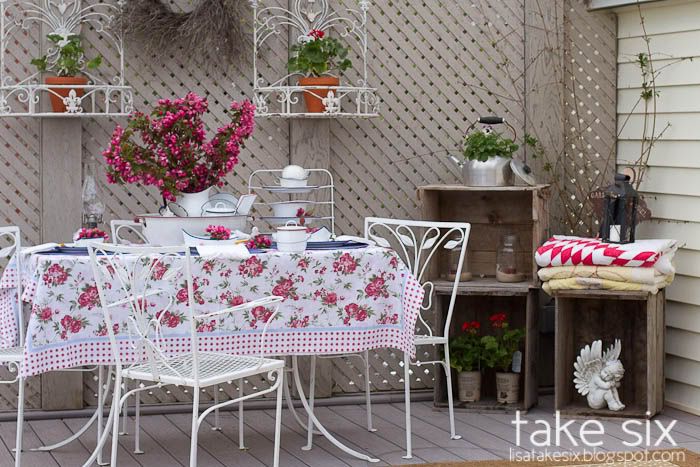 Nova Scotia has a large apple industry.

(But that's a story for another day.)

I have used three old apple crates as a base for summer decorating on our upper deck. I finally relinquished my pansies, from the last table scape, to the outdoors and tucked them safely in my old kettle.

It's been about five years since I made these hanging, Mason jar, lanterns for the back deck. It seems they find "Home" in a different spot each summer. This year I tucked them in one of the apple crates.
This sweet angel has watched over our summer time activities ever since Nicole gave it to me for Mother's Day several years ago.
If the evening air turns chilly, you can always find a quilt close by to wrap up in. I have had so much fun visiting with you today. I hope you have enjoyed your time on my back deck!
"Everything old is new again!" - Peter Allen
All photos courtesy of
Nicole Payzant Photography
Take Six is now on Facebook! We'd love for you to be our friend!